eLite Flow V2 Glove Set
$47.96 (20% Off) $59.95
---
Customer Reviews
gloves
lights
boyfriend
light shows
colors
quality
gift
package
hands
combinations
03/07/2019
Anonymous
United States
Gloves
Awesome quality, the gloves that come standard are just a bit too small for my hands, but thats my fault for not getting a larger size.
03/04/2019
Denise M.
United States
Badass gloves!!!
Love them!! Well worth the money for upgrade from the wire gloves!! Company is a pleasure to deal with!!
02/17/2019
Christina T.
United States
AMAZING lights!!
I bought these gloves as a gift for my boyfriend and he is absolutely in love with it. The lights are incredibly LED in person, so much so that it's hard to get an accurate video recording of the colored lights!!
02/17/2019
Anonymous
United States
One of the best
These gloves are for average and above glovers, but fun no matter who uses them, lots of detailed light combinations as well as brighter light than other gloves, ideal set of gloves that you don't over pay for.
01/12/2019
Richie H.
United States
Great gloves to really get
Great gloves to really get the flow going.
01/09/2019
Anonymous
United States
Amazing!
My new favorite hobby!
12/19/2018
marissa s.
United States
Best Purchase I've made so far
I've bought gloves from this site before just the $20 starter ones and they were good so I thought I'd uprgrade to the Flow V2 and wow these lights are so dope, they're actually easy to use and my light shows look so much better the modes and colors are insane and bright I love these gloves and recommend them to everyone, once again one of the best things I've ever bought I'm so obsessed
12/12/2018
Glenny R.
United States
12/12/2018
Carson R.
United States
Spectacular
Ordered on Sunday morning, shipped next morning by 8am, received the package by 10am Wednesday morning.
12/09/2018
Anonymous
United States
A great starter set
I got this for my boyfriend for his birthday and he loves it! buttons are easy to push for him and he is always practicing!
---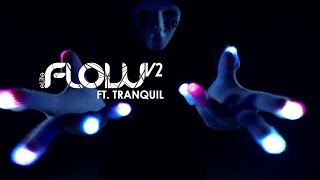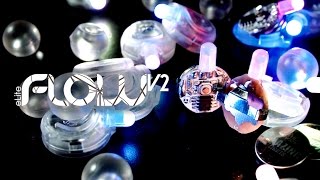 Description
PERFECT FOR FLOW ARTS, SOMETHING DIFFERENT FOR GLOVERS
PERFECT FOR FLOW ARTS,
SOMETHING DIFFERENT FOR GLOVERS
The Flow V2 LED Gloves are reimagined from its predecessor, featuring the ability to watch your modes transform over time with 2x as many flashing pattern options as V1. Program your lights quickly on-the-fly and watch them morph and fade through some of our most unique patterns yet.
Whether you're into our gloves, orbits, levitation wands, or glow sticks, the Flow V2 will flow with you.
Featuring Our Most
Unique & Flowy Patterns Yet
Option 1 - Flow For Days with All Your Patterns
Every 8 seconds, your lights will switch between each of the 16 flashing patterns above. This Flow Timer is the default setting for the Flow V2. You can also customize the Mode Shuffle Order that the patterns will appear in.

See the 3 Mode Shuffle Options
Â
Option 2 - Use 1 Pattern at a Time
After you turn the light on, click again to disable the Flow Timer and manually choose which pattern you would like to use. This simple 1-button navigation works just like our old friend the eLite Matrix.
20 vibrant color options
Mix and match any of these 3 colors across the all of the Flow V2's modes with just a few button clicks.
WHAT'S
IN
THE
PACKAGE?
WHAT'S IN THE
PACKAGE?
•

10 x Frosted Bulb eLite Flow V2 (Assembled)

•

10 x Clear eLite 4.0 Casings

•

20 x CR 1620 Batteries

•

10 x Standard LED Diffusers

•

1 x Pair Medium Magic Stretch Gloves

•

1 x Glove Pouch

•

Instructions
eLite Flow V2 Instructions