eLite ezLite 2.0 Glove Set
$49.95
---
Customer Reviews
gloves
batteries
ones
pair
lights
color options
quality gloves
money
coworkers
user friendly
04/24/2019
MARIAH P.
United States
The best!
Mind melting man truely
04/17/2019
Anonymous
United States
04/17/2019
JACE S.
United States
Ezlite 2.0 feedback
Great set of beginner lights. Only wish there was more color options for purple. There's only lavender and I feel like it limits your choices.
04/13/2019
Anonymous
United States
Sick set
It's pretty tight. One light when out very shortly after I got them, but that's easily replaceable. My friends and coworkers enjoy them as much as I do.
04/09/2019
Anonymous
United States
Fabulous and funky
I ordered the mystery hoodie and it's is definitely a trip! I love emazing lights!
04/05/2019
Rachel M.
United States
So pretty!
The lights are so gorgeous. I am happy that the batteries are in and ready to go. Can't wait to start learning to glove.
04/02/2019
Anonymous
United States
breathtaking!
I love my gloves! I can bring the light show anywhere I go!
03/19/2019
Anonymous
United States
Great
Really good for starting out, easy to use!
03/09/2019
TYLER B.
United States
Love em
Super easy to figure out love the configuration
---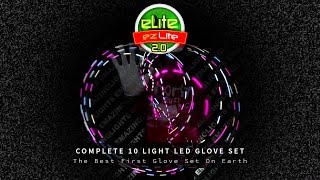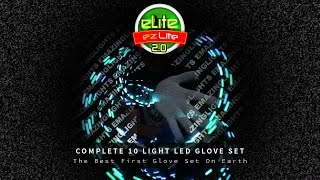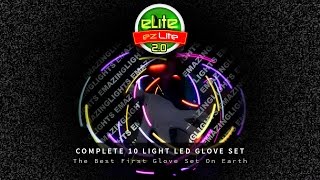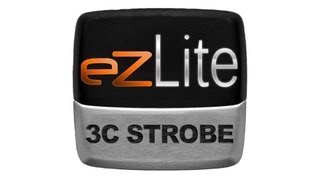 Description
The Best First Glove Set on Earth
One night, your homie hands you a set of light up gloves to play with. You aren't sure why, but you can't take your eyes off them. The flashing strobes, the trails of light that streak the air; it's all so hypnotizing. Suddenly your hands have more power than you've ever felt.
You realize: There is so much more I can do with these lights. Don't worry, you're in the right place.
Power, creativity and affordability come together in the ezLite 2.0. We recommend you roll your fingers around in this awesome Starter Glove Set before upgrading to our Premium Glove Sets in the higher price ranges.
New to the ezLite 2.0
- Mode 3: Strobie
- Bonus Color: Lime Green
- New Default Colors
- ClickSwitch to Conjure
All of our Premium Glove Sets feature the eLite Chip line: the most trusted, durable and customizable lights on the market. The ezLite comes glover-ready out-of-the-box with 20 gorgeous colors to choose from, and 3 of the most popular flashing patterns among pro glovers. You can even dip your fingertips into the world of Conjuring with our premier ClickSwitch Technology.
20 Gorgeous color options
All New Default Modes
"conjure" with your light show
Turn your gloving into magic with one of our favorite classic styles, "Conjuring." Click the video thumbnail (right) to see how it works in Munch's classic show, "Lust." You can use a simple ClickSwitch feature on the ezLite to choose 1 of the 3 modes to use for on/off functionality.
what's in the package?
10 x eLite ezLite 2.0 Chips
10 x Clear eLite 4.0 Casings (Installed)
20 x CR1616/1620 Batteries (Installed)
10 x Standard LED Diffusers (Installed)
1 x Pair Medium Magic Stretch Gloves
Instructions