ePoi - A Brighter Way to Spin
$79.95
---
Customer Reviews
Filter Reviews:
pair
lights
festivals
gift
deal
quality
customer service
love
show
ePoi
12/02/2019
Anonymous
United States
Lit!
I'm very satisfied with my purchase, I wish the strings lengths were more adjustable.
11/26/2019
Travis T.
United States
These are now my favorite
These are now my favorite Poi. They are so freaking bright. And they surprisingly lasted the whole show with the level of brightness I was using. And the color combinations are insane P.L.U.R ✌
10/03/2019
JACOB E.
United States
ePoi
Now, don't get me wrong: I LOVE the ePoi! Mine came in broken though :( I just returned them for a new set. Not trying to bag on you guys. I can't wait for my new set to come in so that I can start practicing. I was bummed I couldn't take them to goldrush 2019 though.
08/06/2019
Anonymous
United States
Need help
Turn this pair on both of them started spinning within an hour of not even turning them off they both went into some weird mode they still charge fine but the lights won't turn on how do I get it out Of this mode I do not think they are in Elock either
07/26/2019
JENNIFER I.
United States
Very bright & fun modes!
The epoi are very bright & the different mode selections are awesome. They're also rechargeable which is great, more flow toys should be! However, I had mine for less than a week, didn't abuse them or bang them really hard into anything, only charged them once, and one of the poi stopped work already. I contacted customer service and they're taking care of return shipping and sending me a replacement set for free so that's awesome, but it sucks that I haven't been able to poi for another 2 weeks so I'm giving 4 stars. Hopefully the next set don't die as well.
07/17/2019
Anonymous
United States
Amazing
Really good investment for festivals I've been picking it up fast
06/07/2019
AYLA K.
United States
epoi
seriously are the most amazing poi! thank you :)
04/18/2019
EMILY C.
United States
Fantastic
I absolutely love them ! Fell in love the moment I started using them
03/22/2019
Anonymous
United States
Great
Strings we're a bit long for me but overall great
01/16/2019
Dulce R.
United States
Poi Lights
Such good quality and feel. Super excited to have them!
---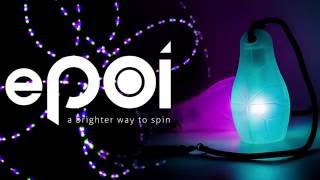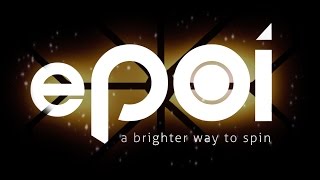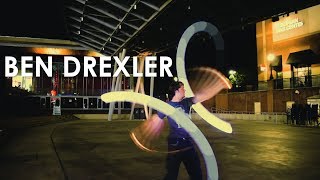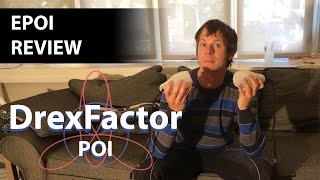 Description
A
Brighter Way

to Spin

The ePoi is the brightest, most advanced button-programmable LED poi you've ever spun. We worked alongside
some of the top poi spinners in the world to develop this beautiful, eye-catching poi set.
Eye Catching Brightness (2-3x Brighter than competitors)
Soft & Durable Silicone Shell
Motion Reactive
USB Rechargeable
Lifetime Warranty
BEAUTY
in

STRENGTH

We built the ePoi with the everyday poi spinner in mind.
Soft & absorbent

silicone poi shell

Easy & tactile

button press

Adjustable leashes

with tight, stable knots

Grippable

single-loop swivel handles

eLock

keeps ePoi off in your bag
ePoi Specs
2 x Ultra Powerful LEDs
5.3" height x 2.75" diameter
23 inches in length
160g per poi head
5-12 hour battery life. USB recharge in under 2 hours.
780mAh 3.7V Li-Po Rechargeable Battery
Poi
customized

your way
With just one button you can...
Pick Your Own Colors

Combine up to 3 of your favorite colors (24 options) + Select the Tint of each color

Choose Flashing Patterns

Select from 20 of our favorite patterns

Shuffle Modes As You Spin

Watch the ePoi change modes over time
See all the 24 Color Options, 20 Flashing Patterns and Mode Shuffles
"Flux"

Motion Reaction
You move, they change.
Slow/Stalled

Speeding Up

Full Speed
As you speed up and slow down your spinning, your colors will melt between each other with awesome transitional
hues. Just click to the 5th mode and start spinning.
what
Poi spinners

are

saying
"The weight feels really good."

Jaimison Salazar

10 year Poi Spinner & Glowstringer

"The brightness is a nice feature to these poi and I also enjoy the color customizability."

Eric Dingoni Vadala

10 year flow artist
What's

in the package?
2 x ePoi (Leash & Handles installed)
Dual Micro USB Charging Cable
Instructions
Carrying Case
Lifetime Warranty**
**We will exchange any defective ePoi free of charge for as long as you own it. Lifetime Warranty does not cover general
wear-and-tear or any misuse by the user including loss, theft, intentional breakage or gross misuse of the product.