eLite Flow Poi Balls (Set of 2)
$29.95
---
Customer Reviews
Reviews (83)
Questions (13)
01/03/2018
cindy m.
United States
Flow poi
I bought this as a gift for someone and they love it .
Solid product, excellent customer service
This set of poi balls have provided me with a lot of quality use time. They're hard, so they're not meant for too many collisions, but if you can generally avoid that, they will likely serve your poi needs to the fullest. Further, any problems I did have were resolved wonderfully with their excellent customer service team.
12/23/2017
Emilia
New York
Good for the price
These were fun to use but troublesome throughout their entire lifespan. They have a nice weight to them and the finger/hand holes are useful. The color selections and modes are nice and easy to work with. However, I've had problems with the lights randomly not working and getting dimmer (in one poi ball). Also, the hard material they're made out of is not good for you or them. They hurt pretty bad when you hit yourself, which I've let go of, as I am willing to suffer bruises for the joy poi gives me, haha, but after one year of ownership and mild usage, I hit them into each other while practicing, and one of them completely broke apart. They should be built to withstand such events. I know they're only like $30, so I guess it's no surprise... But the less risky price appeals to beginners, and if you are a beginner, I advice looking for something softer. Attempting risky, unmastered moves frequently feels daunting with these because if you hit yourself in the face, or anywhere, it's really, really going to hurt. And if they hit into each other too much, they might just fall apart. I would advice getting soft, cheap poi to practice with, and then rewarding yourself with a beautiful, quality, illuminated pair once you've got some moves down.
Hello! Thank you for shopping at EmazingLights! We appreciate you reaching out to us. We sincerely apologize for any inconvenience! We will be sure to pass this feedback along to the appropriate department for further consideration. We are dedicated to our customer's satisfaction, so if there is anything we can do to further assist you, and make this a 5-star experience, please reach out to us! :) Thank you for shopping with us! Sasha Customer Support Team IntotheAM / iHeartRaves / EmazingLights
12/18/2017
jesse k.
United States
Fantastic
Picked these up to learn with as well as to keep on hand for when friends come to visit. Great set to learn with and great for a backup when people forget to bring theirs.
11/15/2017
Justin S.
United States
Great poi
The weight is awesome they die way to fast though or I just spin to much lmao don't know which but I love em. They are my favorite poi over pods and sock poi. Great lights bright even in the day time. Thanks emazing
11/10/2017
Taylor S.
United States
I love them!
The only thing I don't like is easily fixable, so it doesn't matter! My experience ordering was great. I love Emazing Lights!
11/02/2017
Christopher O.
United States
Couldn't be happier!
As expected emazinglights had delivered one of the best poi I own now. The colors and vibrancy are amazing!!! The service is always outstanding! I highly recommend these poi to anyone. Thanks Emazinglights, you guys are Dopesauce to the Max!
10/30/2017
Alexis P.
United States
They are literally so amazing.
They are literally so amazing. Shipping was fast I received them right away. I'm beyond happy with my purchase
10/17/2017
William S.
United States
Poi eLite is just right
The poi are fun, buying the batteries arent
10/06/2017
Kendra T.
Michigan, USA
Fun, and bright!
I got these about 6 months ago as a gift, and I love them! The weight is perfect, and the poi are quite durable (the instructions aren't kidding about it hurting if it smacks you). The only minor complaint I have is with the cord, as it sometimes slips up, making the poi sometimes longer. It was an easy fix though! I would definitely recommend these to those who are ready for something high tech, but not ready to drop a lot of $$$
---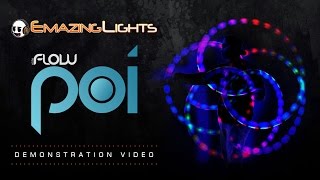 Description
The All New eLite Flow Poi Set is perfect for poi spinners who love experimenting with colors and flashing patterns. Utilizing a built-in eLite Flow Chip, spinners can program up to 3 colors at once from a palette of 20 awesome colors. Then, in Demo Mode, these colors will flow automatically between 8 different mind-blowing flashing patterns.

Built-in Flashing Patterns:
HyperStrobe
Ribbon Fade
Pulse
7-Color Ribbon
Dash Morph
Strobe Fade
Strobe Morph
Kandi Mode
Specs:
110g Each Ball
75mm Diameter Ball
*Updated* Neoprene Single Finger Loop Handle
8mm Diameter Swivel Near Handle
2 x CR1620 Batteries Each Ball (included)
Each ball spins like a dream. With a solid build and tons of customizable options, you can't find another poi set with such rich features anywhere else on the market. Batteries and instructions included.