eLite Element V2 Glove Set
$99.95
Choose Your Free Recharge!
---
Recharge Refresh Combo Deal
You must select an option before you can continue
No thanks, I don't want a free gift.
---
Customer Reviews
Filter Reviews:
batteries
gloves
moves
colors
patterns
pair
lights
choices
quality
possibilities
I recommend this product
Just bought these and they will be my first pair of pro gloves
EMAZING LIGHTS IS THE SHIT. Customer service matched price on their sale for me as it dropped 30% the next day. Really awesome customer service. Will def buy again. can't wait to get these going @ tomorrowland this year!!
05/10/2019
JORDAN W.
United States
Amazing!
The Evoloution set is definently recommended for starting or even if you just need some gloves!! They're super easy to program and have so many functions it's mind blowing.
04/25/2019
Anonymous
United States
Super fun
Buy with an extra set of batteries
04/24/2019
Anonymous
United States
Excellent quality
Surprisingly the product was beyond my expectation!!!! Super comfortable and definitely amazed me with the unlimited possibilities of color combinations
02/03/2019
Anonymous
United States
Love it
I think these gloves are amazing. I just wish the batteries lasted longer.
01/16/2019
Anonymous
United States
Amazing
Love the quality of the lights and the different modes it has, these gloves can make your most basic moves look amazing because of the modes. Can't wait to buy different diffusers for them to my my lightshow experience more interesting.
01/02/2019
Charles f.
United States
Great
This by far was well worth it
Elements
I got my elements a few months ago and I loved them since I opened them. The motion featured is what attracted me to them initially, and once I got the hang of mode editing I fell in love again.
12/23/2018
JACOB H.
United States
Great gloves
Practice makes perfect.
12/19/2018
Anonymous
United States
Wonderful
First pair of gloves I've owned and I instantly fell in love
---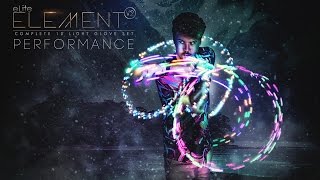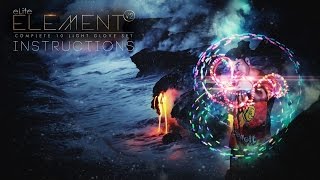 Description
WHAT'S NEW IN V2
Upgraded, easier-to-use Speed and Tilt motion functions, plus the all new Flux Motion
Custom designed default modes tailored to your gloving style
31 Color Palette including new colors: Cosmic Owl, Lime, Cyan, Lens Flare, Snarf, and Tombstone
12 Flashing Pattern options including new patterns: Shadow, Centerpoint and Ultra Dops
Firmware Upgrades: Faster programming level navigation, optimized button click response, fixed master reset issues, eliminated bugs
Faster, more user-friendly navigation
Reinforced LED bulb connections
eLock Battery Protection software
SPEED FUNCTION: V2
Just like in V1, Speed Function features the ability to switch your lights between two uniquely programmed sets with the flick of a finger. For V2, we went in and totally reoptimized the accelerometer readings. In English, that means that these things now react smooth as silk. We also adjusted the 3 different Speed Resistance levels so that the lights change depending on how fast you want to move.
TILT FUNCTION: V2
Tilt function works the same as V1, but quicker and more consistent. Point your lights up to the sky to use your first set, and down to the ground for your second set. Now featuring the ability to select the exact point in space where your lights will switch sets.
INTRODUCING: "FLUX MOTION"
Flux Motion is a blissful blend of 3 single colors reacting to 3 different speeds. As you glove faster, the colors melt between each other with awesome transitional hues. This function is fully compatible with all 12 flashing patterns and can be customized to add gaps between the strobes without having to reprogram. See the "All Around" set above for programming tips.
The Element V2 uses the most intuitive one-button programming interface on the market.
Edit any feature in seconds without affecting the rest of the light's functions
Enter or exit each programming level with ease
Live Preview programming (see below)
eLock Battery Protection software - keeps your lights off in your pockets and bags
Decreased time between programming levels for significantly faster navigation
Super responsive button click
Patent Pending
Flashing Patterns
When programming, you can see a live preview of your flashing patterns before selecting them. When you scroll through the options, simply move the light side-to-side to see.
Color Sets
When you program your color sets, you can see a live preview of your colors before you place them into the set. Just move the light side-to-side and you will see all of the colors you've already selected combined with the color you are currently looking at.
Just like the Element V1 and the Chroma CTRL, you can rearrange your modes to the order of your choice. Use the 6 available mode slots (or less) in any combination you can imagine. You can even repeat modes. When you get tired of your custom order, reset your modes back to their default order without losing your original programming.
Just like the Chroma CTRLs, Element V2s will come shipped with the lights fully assembled and eLocked inside your gloves. Just put them on, hold the buttons to unlock and glove.
Includes:
10 X Clear Bulb eLite Element V2 Chips
10 x Clear eLite 4.0 Casings (installed)
20 x CR1620 Batteries (installed)
10 x Standard LED Diffusers (installed)
1 x Pair Medium Magic Stretch Gloves
1 x Glove Pouch
Instructions