eLite Chroma CTRL Glove Set
$45.47 (35% Off) $69.95
Claim your free gift!
---
Mystery Diffusers - Universal - 40 Pack
Please select an option before you can continue
No thanks, I don't want a free gift.
---
Customer Reviews
Filter Reviews:
batteries
gloves
colors
purchase
color
glove
pair
pairs
settings
options
08/30/2019
Emily R.
Canada
Perfection
Exactly what I was looking for!! So many awesome colours and modes to choose from! Best purchase so far and I'm still fairly new to globing despite getting lightshows for years. But it's never to late to start right! Can't wait to bust them out this weekend. :) 10/10
07/26/2019
Mike L.
United States
This is great.
Just starting back up gloving again. The programming and color selection is simple and understanding. Plus the locking mode for when putting in the bag, so it won't turn on while walking around is a great addition.
07/24/2019
Edwin P.
United States
Best bang for your buck
Super reliable and dependable set. Cheap, but feature rich. Def the sweet spot between enough modes and colors but doesn't cost an arm and a leg to replace. My go to for festivals since i can actually afford to lose these hahahaha I'm terrible.. Love the cntrls though
07/12/2019
Anonymous
Australia
Awesome gloves
Easy to use, the light so good so clear and so beautiful. My friend really like when i do the lightshow for them
05/24/2019
Anonymous
United States
Always great!
Just recently started gloving and I'm always impressed with their speed of service and amazing products!!
05/21/2019
Anonymous
United States
Amazing
Really bright and I love the customization
05/11/2019
BRANDY M.
United States
Beautiful
So customizable
05/06/2019
Anonymous
United States
Best as always
Favorite gloves
05/04/2019
Anonymous
United States
Perfect Glove Set
I always used Chroma, they never let me down, especially with this set. The battery protection is so useful, always saves me in every light show I do. I highly recommend this set.
04/26/2019
Anonymous
United States
Love them
Literally nothing bad to say about them. They are exactly as advertised, they are comfortable and they are bright af haha I love them.
---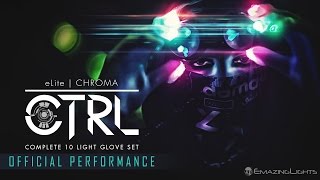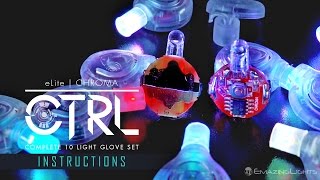 Description
THE MOST POPULAR GLOVE SET OF ALL TIME:
UNLOCKED
All New Flashing Patterns & Expanded Color Palette
We've been in the lab guys. Experience our newest flashing pattern creations, including one created by our very own sponsored glover [PLL] Vex.
All New Colors
From Limited Edition Lights
Complete Mode Customization
You'll never be stuck with the patterns in your default mode slots again. Unlike the Chroma24, each mode slot on the CTRL can be fully modified on-the-fly. Take this set for example. It is using the default colors from the 4th mode "Cryo Dreams," but we modded the flashing pattern on each light. Instead of just Dops, it's using

Strobe Morph

,

Dops

,

Chroma

,

Flicker

and

Vex

.
Use Mode Reordering to rearrange your modes in any order you want while keeping your programming intact. You can even set it to be less than 5 modes (1 mode for conjuring, 2 modes, 3 modes, etc.) Repeat modes, too.
Here is an example of how you might want to reorder your Chroma CTRLs.
If you decide you don't like your custom arrangement, you can always bring it back to default order again without affecting your programmed sets and flashing patterns.
Never let your lights turn on in your pocket again
The Chroma CTRL features new software that locks your lights when they are off so that accidental clicks don't drain your battery.
We love this new feature so much, we're going to ship every CTRL set out with eLock engaged and the lights inside the gloves. No more battery tabs, no more manual glove set assembly. Just unlock, and glove.
10 x Clear Bulb eLite Chroma CTRL Glove Lights
10 x Clear eLite 4.0 Casing (Installed)
20 x CR1620 Batteries (Installed)
10 x Standard LED Diffusers (Installed)
1 x Pair Medium Magic Stretch Gloves
Instructions