eLite Chroma CTRL Glove Set
$55.96 (20% Off) $69.95
---
Customer Reviews
12/11/2018
MELISSA D.
United States
Awesome!
Love all the different modes! Happy with my purchase.
12/09/2018
Keith H.
United States
I've always wanted chrome 24's
I really enjoy the settings and the lights oven gloves in a while pretty freaking amazing
12/06/2018
Anonymous
United States
Satisfactory
Dude amazing I can't wait to practice and learn more gloving techniques.
12/02/2018
Anonymous
Australia
Sweet
Worked well. No issues
11/30/2018
CRYSTA P.
United States
Amazing
Amazing but purchase!
10/12/2018
OMAR B.
United States
exceeded my expectations :)
Overall, super fuego. 10/10 would buy again -ign 2018
AS
10/10/2018
Ali S.
United States
New to gloving
I'm newish to gloving and this is the first set I've owned myself. Took a little bit to figure out how to program them, but once I learned how to do one, it's pretty quick to do the rest. Truly the best for customization aside from the Spectra bt ones.
10/09/2018
Malachi R.
United States
Poor conjuring settings
The color and mode selection was a huge upgrade from the previous chroma 24s but as far as premode selection and conjuring settings it was a huge downgrade. I still haven't found out if mine are defective or not and even working with support I can't get anyone to test it to find out. But I love them nonetheless and accept their ups and downs
10/08/2018
Javi L.
United States
Got me back into gloving
I haven't gloved in forever! The last lights i had were micro max I believe & before that i had novas & all those old school lights. The fact that I dont have to change bulbs anymore its so huge & not only do I have one set but I have 5 more at my disposal to put into my routine. They are so small & comfortable, its easier to do moves; as well as the rubber backs helping the lights be more stable. Overall i love this lights & I can't seem to put them down hahaha
10/05/2018
Jason F.
United States
Amazing Right Out of Box
I had purchased the version below this a year ago but lost those gloves at a festival. These gloves are more amazing in so many ways! The set up right out of box is great for a beginner, and the customization options are endless. Great for newbies to the art of gloving
---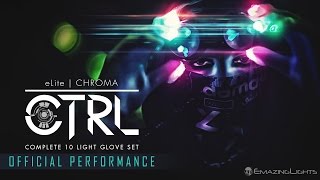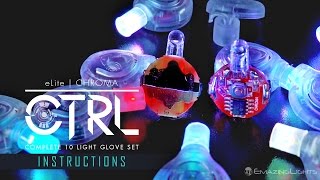 Description
THE MOST POPULAR GLOVE SET OF ALL TIME:
UNLOCKED
All New Flashing Patterns & Expanded Color Palette
We've been in the lab guys. Experience our newest flashing pattern creations, including one created by our very own sponsored glover [PLL] Vex.
All New Colors
From Limited Edition Lights
Complete Mode Customization
You'll never be stuck with the patterns in your default mode slots again. Unlike the Chroma24, each mode slot on the CTRL can be fully modified on-the-fly. Take this set for example. It is using the default colors from the 4th mode "Cryo Dreams," but we modded the flashing pattern on each light. Instead of just Dops, it's using

Strobe Morph

,

Dops

,

Chroma

,

Flicker

and

Vex

.
Use Mode Reordering to rearrange your modes in any order you want while keeping your programming intact. You can even set it to be less than 5 modes (1 mode for conjuring, 2 modes, 3 modes, etc.) Repeat modes, too.
Here is an example of how you might want to reorder your Chroma CTRLs.
If you decide you don't like your custom arrangement, you can always bring it back to default order again without affecting your programmed sets and flashing patterns.
Never let your lights turn on in your pocket again
The Chroma CTRL features new software that locks your lights when they are off so that accidental clicks don't drain your battery.
We love this new feature so much, we're going to ship every CTRL set out with eLock engaged and the lights inside the gloves. No more battery tabs, no more manual glove set assembly. Just unlock, and glove.
10 x Clear Bulb eLite Chroma CTRL Glove Lights
10 x Clear eLite 4.0 Casing (Installed)
20 x CR1620 Batteries (Installed)
10 x Standard LED Diffusers (Installed)
1 x Pair Medium Magic Stretch Gloves
Instructions