eLite Chroma CTRL Glove Set
$69.95
---
Customer Reviews
Reviews (209)
Questions (22)
08/13/2018
Elaine C.
United States
Great set!
Easy and fun to use
08/11/2018
William T.
United States
Well-rounded Set
These are an ideal choice, especially if you're just starting out gloving. They're versatile and easy to program. Great for learning basic chip programming, fundamentals of showmanship, and color balance. Affordable set, sales happen frequently, coupons are not hard to come by. If you're a more advanced Glover and not afraid to dive deep however, just get the Elements set; the added motion/flow controls is truly something that, while difficult to master, is a vastly more rewarding experience for you and your audience.
08/10/2018
Michael S.
United States
Fantastic Set! On the Fence? Trust, Just Buy!
I had the cheaper CTRL beginner set in the past and had given that pair away at an event to another glover who just got back from military service and took his fiance to her first rave/event. This was a fantastic replacement and upgrade from my last set just using the pre-made strobes and color patterns. Blew many minds and my favorite comment so far: "When you did that trick close to your face and blew that light cloud with your hands, OMG dude. All I could think was 'who is this magician, master of lights showing me the secrets of the universe" Nuff said. BUY A PAIR!
08/10/2018
Nick H.
Canada
Insane
Light came clean and working on the date due. Perfect service
08/10/2018
Irie J.
United States
liiitness
these gloves are fantastic
08/05/2018
Catherine M.
United States
In love
I love my gloves!! I've been using them nonstop since I've got them and haven't had any problems with them at all. I love the different color options and patterns that I can choose from. I'm very happy with my purchase and plan on ordering more!!
07/22/2018
Eric R.
United States
Great Product!
Got these as my first set for gloving and they're amazing!
07/14/2018
Julio L.
United States
06/27/2018
Petya G.
United States
Stellar Gloves
Love the beautiful assortment of colors. The different patterns are a lot of fun. Lots of happy viewers!
06/21/2018
Ivan C.
United States
Enjoyed it!
Good quality, love the color sets and strobe options!
---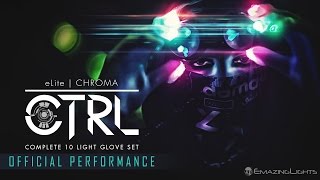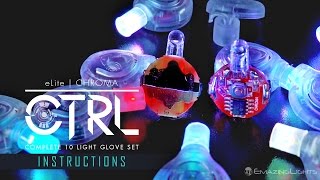 Description
THE MOST POPULAR GLOVE SET OF ALL TIME:
UNLOCKED
All New Flashing Patterns & Expanded Color Palette
We've been in the lab guys. Experience our newest flashing pattern creations, including one created by our very own sponsored glover [PLL] Vex.
All New Colors
From Limited Edition Lights
Complete Mode Customization
You'll never be stuck with the patterns in your default mode slots again. Unlike the Chroma24, each mode slot on the CTRL can be fully modified on-the-fly. Take this set for example. It is using the default colors from the 4th mode "Cryo Dreams," but we modded the flashing pattern on each light. Instead of just Dops, it's using

Strobe Morph

,

Dops

,

Chroma

,

Flicker

and

Vex

.
Use Mode Reordering to rearrange your modes in any order you want while keeping your programming intact. You can even set it to be less than 5 modes (1 mode for conjuring, 2 modes, 3 modes, etc.) Repeat modes, too.
Here is an example of how you might want to reorder your Chroma CTRLs.
If you decide you don't like your custom arrangement, you can always bring it back to default order again without affecting your programmed sets and flashing patterns.
Never let your lights turn on in your pocket again
The Chroma CTRL features new software that locks your lights when they are off so that accidental clicks don't drain your battery.
We love this new feature so much, we're going to ship every CTRL set out with eLock engaged and the lights inside the gloves. No more battery tabs, no more manual glove set assembly. Just unlock, and glove.
10 x Clear Bulb eLite Chroma CTRL Glove Lights
10 x Clear eLite 4.0 Casing (Installed)
20 x CR1620 Batteries (Installed)
10 x Standard LED Diffusers (Installed)
1 x Pair Medium Magic Stretch Gloves
Instructions
---