Electro V2 LED Glove Set
$19.96 $24.95
---
Customer Reviews
10/14/2018
Anonymous
United States
Noob Glover
I feel like I made a solid purchase, considering these were my first gloves. Really satisfied overall!
10/10/2018
Javier R.
United States
SOLID
Bought these to take to an event to not risk losing a good set. The wires kind of interfere since i prefer lights on the bottom of my finger tip. The functions are solid tho. Not bad for 20 bucks :) keep gloving
Hello! Thank you for shopping at EmazingLights! We appreciate you reaching out to us. We sincerely apologize for the inconvenience of this situation. We will pass this information along to the appropriate department for further review on the product. We appreciate your feedback! We are dedicated to our customer's satisfaction, so if there is anything we can do to further assist you, and make this a 5-star experience, please reach out to us! :) Thank you for shopping with us! Please let us know if you have any further questions or concerns.
10/07/2018
Anonymous
United States
Super emazing
It is so great I am having a blast
09/26/2018
Tyler L.
United States
Its not just amazing its Emazing!
A good purchase worth its price I look forward to expanding my collection
09/17/2018
Anonymous
United States
Great pair of gloves
Really easy to move in the gloves. I love these compared to my night nation gloves. Customizable too which is a plus, I bought some diffusers and it makes my shows amazing.
09/11/2018
Anonymous
United States
Very good
It was a good one
08/29/2018
Austin M.
United States
My first pair
Exactly what I could have hoped for.
08/26/2018
Anonymous
United States
Electro V2 LED Glove Set
Amazing.. my daughter is obsessed... Thank u...
07/25/2018
Laura P.
United States
Fun!
Brought them to a music festival and had a great time doing shows. Easy to use. Love that the gloves come in black.
07/07/2018
Sammy S.
United States
lights
I continue to buy from you guys because you never disappoint! Now my freinds are buying them too.!
---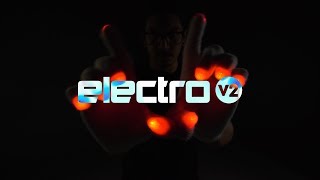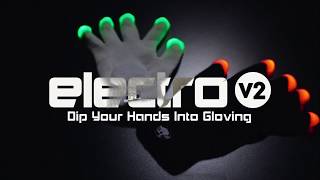 Description
Dip Your Hands Into Gloving
Simple-To-Use
•

Perfect For YOU

•

Customizable
What's new in ?
Increased Durability

Designed and stress-tested with highly durable wiring to ensure long-lasting flow!

Increased Brightness

Now includes a set of our premium diffusers, which allow for bright & vivid trails!

Replaceable Gloves

Easily swap and replace your gloves to keep your flow fresh!
Simple to use
With the click of just 1 button, watch as the beautiful colors & patterns of the lights dance before your eyes!
Perfect for you
The Electro V2 Glove Set is perfect for:
• Glovers of All Skill Levels

- Great for anyone who wants to give gloving a spin for the first time, all the way to those hardcore glovers who just need a simple glove set to keep their flow going!

• Music Festival Enthusiasts

- Why risk losing higher-valued glove sets? These are a lower-risk option that still allow you to glove all night long!

• Club Go-ers

- Entertain those club-goers with a glove light show as they enjoy the bumping beats!

• House Parties

- Mesmerize your friends at those fun get-togethers. You can even let them give it a try too!

• Dancers/Performers

- Add these to your performance to give it that extra flare that no one has seen before!
Customizable
With 7 different flashing patterns, and 8 different colors in each set, there are TONS of possibilities you can create to make your glove sets unique!