Electro V2 LED Glove Set
$24.95
Claim your free gift!
---
Mystery Diffusers - Universal - 40 Pack
Please select an option before you can continue
No thanks, I don't want a free gift.
---
Customer Reviews
Filter Reviews:
gloves
colors
patterns
value
purchase
color
pair
lights
starter gloves
gift
11/05/2019
Anonymous
United States
Idk
It was amazing exept one of the lights came differen then the other colors
11/03/2019
HANNAH C.
United States
First Pair
Like them so far! Batteries died faster than I expected but overall I've had some fun with them.
10/31/2019
Anonymous
United States
Just Amazin!
I liked the feeling of them
10/28/2019
GRACIE J.
United States
Awesome
This was a gift for one of our cousins because he misplaced his a while back and he was so excited and they worked great once he put them on.
10/25/2019
Anonymous
United States
So dope!
Love it! Always give my friends a little light show
10/21/2019
Anonymous
Australia
emazing
worked well perfect gloves for a beginner
10/09/2019
PRINCE T.
United States
Perfect beginner gloves!
These gloves were perfect for me! Im just getting my hands wet with gloving, and these gloves helped me learn the basics without any complicated buttons and programming! They lasted pretty long, but after a while, one color on my right thumb began to lose a color. A while after that, my left glove just only showed red lol. I've practiced kinda aggressively with these, so they are durable! I don't regret buying these at all
09/24/2019
Anonymous
United States
great
gloves worked well :)
09/18/2019
Anonymous
Australia
Simple to use
Great for beginners just starting out
09/07/2019
Anonymous
United States
Faulty gloves
My two gloves both display different patterns. I can not get them to display the same pattern. They were faulty since I got them out of the package. Messaged your account on Instagram for help and no response. Pretty didsapinted I wasn't able to give any light shows for Breakaway, BassCenter or for Dancefestopia.
---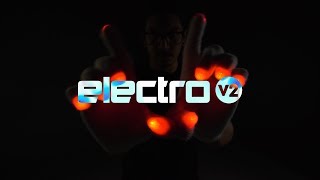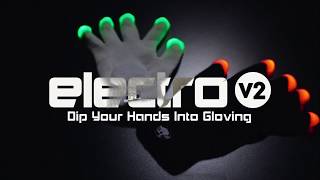 Description
Dip Your Hands Into Gloving
Simple-To-Use
•

Perfect For YOU

•

Customizable
What's new in ?
Increased Durability

Designed and stress-tested with highly durable wiring to ensure long-lasting flow!

Increased Brightness

Now includes a set of our premium diffusers, which allow for bright & vivid trails!

Replaceable Gloves

Easily swap and replace your gloves to keep your flow fresh!
Simple to use
With the click of just 1 button, watch as the beautiful colors & patterns of the lights dance before your eyes!
Perfect for you
The Electro V2 Glove Set is perfect for:
• Glovers of All Skill Levels

- Great for anyone who wants to give gloving a spin for the first time, all the way to those hardcore glovers who just need a simple glove set to keep their flow going!

• Music Festival Enthusiasts

- Why risk losing higher-valued glove sets? These are a lower-risk option that still allow you to glove all night long!

• Club Go-ers

- Entertain those club-goers with a glove light show as they enjoy the bumping beats!

• House Parties

- Mesmerize your friends at those fun get-togethers. You can even let them give it a try too!

• Dancers/Performers

- Add these to your performance to give it that extra flare that no one has seen before!
Customizable
With 7 different flashing patterns, and 8 different colors in each set, there are TONS of possibilities you can create to make your glove sets unique!