eCharge - Rechargeable eLite Battery Pack (Set of 2)
Sold Out
---
Customer Reviews
Reviews (45)
Questions (19)
05/03/2017
Alfonso L.
United States
The best investment ever!
It's easy to setup they fit comfortably with just about any pair of gloves and they last all night at events the wires can become crooked though but it's simple to even them out
05/03/2017
Christian Brown
Elk Grove, CA
Horrible Product
I've used these things maybe 5 times...They shorted out every once in awhile in the beginning, however now, the right hand more than the left, they short out after about 15-30 seconds of use. It doesn't matter how many I have on. I've made sure the wires aren't crossing, I've made sure they are fully charged, that the "top" is on top, that the wires aren't over extended, etc. They simply don't work. I've seen this complaint from most users. Its a shame, because the overall idea is brilliant. I use them mostly for practice and trying out different color combos, but they've started shorting out every time I turn them on. Its frustrating considering how excited I was when I got them. If there is something else I can try to fix them, please let me know, otherwise they'll just end up in my trash can.
Hello!
Thank you for shopping at EmazingLights! We appreciate you reaching out to us. We sincerely apologize for the inconvenience of this situation. Please feel free to reach out to us directly at "support@emazinglights.com" so that we may further assist you on this issue.
We are dedicated to our customer's satisfaction, so if there is anything we can do to further assist you, and make this a 5-star experience, please let us know! :)
Thank you for shopping with us!
Stephanie
Customer Support Team
IntotheAM / iHeartRaves / EmazingLights
05/02/2017
Briena T.
Canada
So worth
Saves a fortune on batteries. 10/10 would totally recommend
This order came in serendipitously
This order came in serendipitously quick!
This order came in serendipitously
This order came in serendipitously quick!
---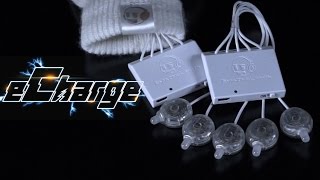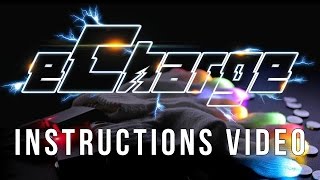 Description
The eCharge is the ergonomic, eco-friendly, cost-saving solution to your light show addiction.
We all know that changing batteries is a pain, so we're bringing you gloving's first ever rechargeable battery pack. With the eCharge, you can glove for hours on end and never have dim lights.
PLUG IT IN, CHARGE AND GLOVE
With the eCharge, you'll simply find yourself gloving more. Don't worry about having to recharge when the battery is low: the eCharge keeps your lights at maximum brightness all the way until it dies. A single charge can last 10-12 hours on low powered modes and colors, or 4-8 hours with brighter, more power hungry modes and colors. Fully recharge both units in just 1 hour.

The eCharge has no effect on the functions of your eLites. Compatible with all eLite Glove Lights.
Don't Drain Your Precious Batteries
We're not saying you have to ditch your 1620s completely. When you're out at a festival, FNL, or throwing shows at IGC, coincell batteries might just make your life easier. But for kickbacks, lab sessions, programming experiments, and those times when you just can't come up on a set of batts, the eCharge has your back. Or rather, the back of your hand.
Comfort and Freedom to Move
We know what you're thinking: These are just fancy pre-wireds, right Emazing?
Wrong. We asked our glovers to throw their most aggressive, mind-melting shows with the eCharge, and there wasn't a single move they could think of that it couldn't handle. The wires are gentle on the fingers, and the battery pack feels slim and minimal, weighing in at just half an ounce. The pack also has a silicon pad on the bottom providing a comfortable, non-slip grip on the back of your hand.
Reinforced and Durable
Don't let the wires scare you. Unlike the cheapo pre-wired set you got at the street fair, this thing was built to last. We reinforced the wires at every connection point so you can whack them, yank them, and swing them around as you please. Become the first eCharge poi spinner! Kidding. But seriously, this thing is a tank.
What's in the box?
- 2 x eCharge Units
- 1 x Dual Micro USB to USB Cable
- Instructions