ePoi Lite
$49.95
---
Customer Reviews
Filter Reviews:
others
price
place
colors
mode
patterns
color
light
lights
side
01/11/2020
ANNA V.
United States
Thanks for a great product. I've bought 2 pairs of these, one for myself to learn and another for my nephew. We both love them and have learned how to flow because of your product. Thanks
It was amazing. Best starting product ever:) definitely will suggest it to others and buy more products.
01/09/2020
Anonymous
United States
01/08/2020
MARTI G.
United States
Incredible!
These poi are so awesome. I can't wait to learn so many more tricks with these. I love the stretch the handles have and the silicone makes it nice and light weight!
12/25/2019
Nathan W.
United States
Love color intensity!
Great product, would recomend this to anyone starting with poi or a longtime user looking to add some color to their flow :)
12/19/2019
Anonymous
United States
Such a great Xmas gift!
My boyfriend won't stop flowing!! Such a great and inexpensive Christmas gift!
12/11/2019
KATRINA O.
United States
Good, but colors...
I havent had much time to REALLY put these things through the ringer, but over all, they are pretty dang good for the price. It's the price that's gonna make these. That said, The colors are not that pretty. But overall, I think I'll buy a pair for my beginner buddy
11/20/2019
Sarah V.
United States
Really good!
Love these so much and easy to learn to program. Battery life is excellent as well. Only thing is, the finger loops can get a little uncomfortable after flowing for awhile. Otherwise, these are a great set of poi balls
11/16/2019
william g.
United States
There's are better than my podpoi
There perfict weight. Can take a beating and the ports for plug in are strong I waited a while before posting this so I could give them a real test over all amazing and worth every penny
10/29/2019
Anonymous
United States
Terrible, it's too great!!
I enjoy messing around with my gloves, and have been using a leviwand for a while. I decided to invest in some Poi, and give it a shot! Kind of an impulse buy before a large group camp trip. I brought this with other fun toys and accessories from Emazing lights, everyone there had a blast with it. Whether of those whom used it, and even the ones enjoying the show. I personally need practice with the ePoi, I'm sure I'll pick up on it like gloving and leviwand-ing. Overall, it's a great buy. I love the modes, features, and patterns it's preprogrammed with. Customer color set up is great to have. Thankfully there's a master reset, and their eLock to secure battery life is great. Being usb rechargeable is a plus+ also, only need to carry my power bank instead of batteries. Battery life is satisfiable as well! Buy it!
09/20/2019
VANESSA S.
United States
So much better then I expected!
They are soooo easy to handle, works perfect! I love them.
---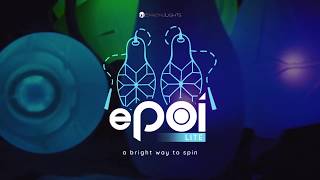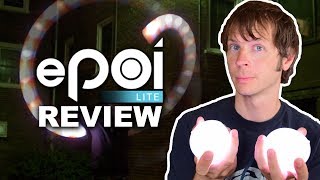 Description
Introducing
A Bright Way to Spin
An affordable, customizable, and easy-to-use option when you're looking for the perfect set of ultra-bright Poi to keep you spinning all night long!
Perfectly Weighted
Customizable
Soft & Durable Silicone Shell
USB Rechargeable
Lifetime Warranty
Ultra Bright
Great for Festivals
Great for Practicing at Home
Great During The Day
Great During The Night
Hundreds of Possibilities
Customize your set-up with:
20 Color Options
•

12 Flash Pattern Options
Easy To Use
With the touch of 1 button, you can start
flowing in a matter of seconds!
Specs
2 x Ultra Powerful LEDs
5.3" height x 2.75" diameter
160g per poi head
5-12 hour battery life.
USB recharge in under 2 hours.
780mAh 3.7V Li-Po Rechargeable Battery
---