eLite Flow Poi Balls (Set of 2)
$39.95
---
Customer Reviews
10/16/2018
Blake H.
United States
Perfect
I was nervous as this was my first set of poi. Ive picked up fsirly quickly got 4 basic moves conquered. I like that the light settings are not confusing. Very simple, choose your colors, choose your setting and boom. I kns the high end versions you can edit colors into each setting and so forth but this a PERFECT set of poi to get as a beginner and wanting to see the color show as well.
10/11/2018
DeiJon C.
United States
Amazing
These are great rather your learning or freshening up on some skills. Bought a pair for me and my gf teaching her the ways and she loves them. As well as I do
10/11/2018
Anonymous
United States
I absolutely love them!
So happy I bought them , love the patterns and the weight of them is perfect. I also love the adjustable straps !
09/11/2018
Anonymous
United States
Beginner!
I love these!! I'm a beginner and they have worked great, the colors are vibrant and I've gotten lots of complements!
09/09/2018
Anonymous
United States
Will purchase mor
They're exactly what you would expect. Welcome to the world of glowey balls!
09/05/2018
Anonymous
United States
08/19/2018
Lisa L.
Australia
awesome
Really good, easy to use and love the balls inside as the weigh feels great when spinning
08/09/2018
Sephanie A.
United States
Satisfied customer
I'm just learning poi and these are so Awesome! The only thing is the adjust strap slides out of place.
08/08/2018
Josh R.
United States
Good for beginners
good weight, perfect for practicing. settings are pretty basic
07/25/2018
Jessica E.
United States
Loved these poi
Perfect for what I needed.
---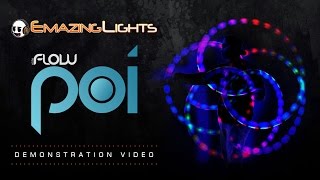 Description
The All New eLite Flow Poi Set is perfect for poi spinners who love experimenting with colors and flashing patterns. Utilizing a built-in eLite Flow Chip, spinners can program up to 3 colors at once from a palette of 20 awesome colors. Then, in Demo Mode, these colors will flow automatically between 8 different mind-blowing flashing patterns.

Built-in Flashing Patterns:
HyperStrobe
Ribbon Fade
Pulse
7-Color Ribbon
Dash Morph
Strobe Fade
Strobe Morph
Kandi Mode
Specs:
110g Each Ball
75mm Diameter Ball
Neoprene Double Finger Loop Handle
8mm Diameter Swivel Near Handle
2 x CR1620 Batteries Each Ball (included)
23 inches in length

Each ball spins like a dream. With a solid build and tons of customizable options, you can't find another poi set with such rich features anywhere else on the market. Batteries and instructions included.