Orbite X3 (4-Light)
$29.95
---
Customer Reviews
12/07/2018
CHRYSTINA A.
United States
IN LOVE
one of my favorite light toys & it's so easy to use!
11/29/2018
Scott J.
United States
Just Amazing!
One of the best purchases I've ever made
11/08/2018
Anonymous
United States
Unreal
This orbit is amazing, I previously only owned one that was 4+ years old. The new technology is incredibly exciting! I would absolutely recommend, it's easy to make shapes with this one.
10/29/2018
Anonymous
United States
Absolutely great!
I love it! Don't regret buying it at all it's become my new hobby
Caught Up
Bought this as my 2nd orbit to learn, since it was cheap. After improving, this clunky casing got old and tiring. Kept getting caught in between the prongs. Lights would always turn on, own their own in my pockets. After 4 months of using it, the casing broke so easily. The Zero is a better option as a start. Don't buy it any of these casings if you're at an intermediate level.
Hello! Thank you for shopping at EmazingLights! We appreciate you reaching out to us. We sincerely apologize for the inconvenience of this situation. We will pass this information along to the appropriate department for further review on the product. We appreciate your feedback! We are dedicated to our customer's satisfaction, so if there is anything we can do to further assist you, and make this a 5-star experience, please reach out to us! :) Thank you for shopping with us! Please let us know if you have any further questions or concerns.
09/27/2018
Anonymous
United States
Great
Used it everyday for about a hr a day for the last two weeks, one of the lights died but the rest r still good.
09/10/2018
Anonymous
United States
super dope
its cool hurts like a ***** when you smack yourself with it tho
09/05/2018
Gregory R.
United States
Best item I have ever bought
I love doing light shows and showing all my friends
09/02/2018
Anonymous
United States
Love It for my first orbital
Amazing can't wait to blow people up with it
08/27/2018
Anonymous
United States
It's E-Mazing!!!!
Best LED product I've ever bought!!
---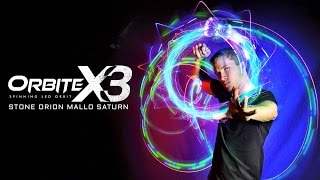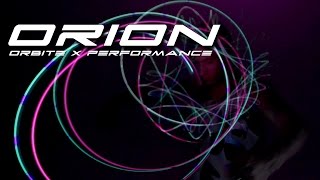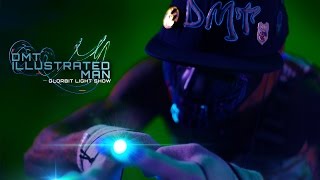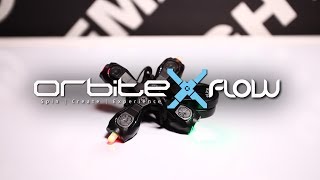 Description
STUNNING
HANDSPUN
LIGHT IMAGERY
AT YOUR
COMMAND.
The beauty of the Orbite X begins the second you pick one up for the first time. Simply learn the basics, give it a few spins and you'll be making beautiful light patterns in minutes. Spend some more time with it, and you can develop new tricks and illusions, and even share them with the ever-growing orbiting community.
FEATURING
REVERSIBLE MICROLIGHTS
This game-changing hardware upgrade takes full advantage of the eLuminate Clear Casing.
Flip your lights inside-out for a vibrant inner glow.
Watch the performance video at the top of the page to see it in action.
ENGINEERED TO PERFORM
New Back-to-basics Keyring-Style Comfort Handles
Reinforced Casing - Little to No Rattle
Thicker 3mm Satin String for Easier Spins and Added Control
Easy Assembly & Battery Change - No Need to Remove Strings
Improved Screw Durability + Mini Screwdriver included
Compatible with All eLite Orbit Lights
---
THE ILLUSION OF MAGIC
You can create these awesome light designs with a few simple flicks of the wrist.
---
WHAT'S
IN
THE
PACKAGE?
•

Orbite X3 Fully Assembled

•

Mini Phillips-head Screwdriver

•

2 x Keyring-style Comfort Handles

•

4 x eLite Flow V2 Microlights

•

2 x 3mm Satin Strings

•

8 x 1620 Batteries