Astro Levitation Wand
$89.95
---
Customer Reviews
Write a Review
Ask a Question
Filter Reviews:
batteries
price
colors
room
lights
times
string
wand
Levi
balance
07/05/2020
Yaz Loukhal. Swiss Mobile
Switzerland
Great product.
Great lights. Great product. Used them for photography. The delivery was on time,.
06/08/2020
Anonymous
United States
Amazing!
It has been SO MUCH FUN!! I'm having fun playing with it and learning new tricks so when festivals open back up I'm ready!
06/04/2020
Harley B.
United States
Great tracing and all
The only issue I seem to be having is that the charger port likes to shift and the weights fall out of the end far to easily I ended up flying them on
05/31/2020
Farrah S.
United States
Just kool
Great one of the best places for the best offers on flow toys
05/24/2020
Elizabeth D.
United States
AstroLeviWand
It's been amazing, the washers for weight balance help a lot and the colors are extremely bright
04/21/2020
Egypt H.
United States
I love my wand!
Your products never fail me!! I love this wand so much!!! The different strobe features and colors are exceptional! So many cool things to play with! Thank you!
03/15/2020
Fernando Hernandez Jr.
United States
Levitation Wand *GOD*
I never order a wand before but, this wand is beautiful and amazing. Im learning how to use it and practicing with it a lot. ill admit i struggle to know how to use it but, the more i practice i know i will get better.
01/21/2020
Anonymous
United States
Led leviwand
The string is a bit small but other then that I love it
01/13/2020
DANIELLA R.
United States
It broke, but other than that it was fine
The string broke and it also broke a little in the middle. It still worked after I taped it up It was balanced a little weirdly for me but the light variations were nice
01/01/2020
Anonymous
United States
Very bright
Good very bright and light
---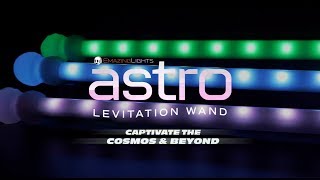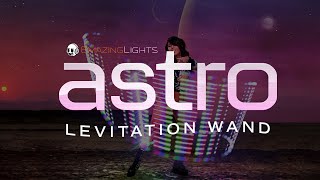 Description
Introducing the new Astro Levitation Wand, the perfect LED toy that you will want to take everywhere you go!
Flow during the day, night, at raves, or parties!
Ultra-Bright LED Strip For Any Time of Day
Mesmerizing Flashing Patterns
Adjustable Balance
USB Rechargeable
Full Ultra-Bright
LED Strip
Perfect for Any Time of Day
Day
Night
Easy
One-Button

Programming
To make your life easier
Strobe Morph

Chroma Fade

Pulse

Edge

Tracer

Shapeshifter
See
Your Modes

Change
Right Before Your Eyes!
Mini Edge
Chroma Morph
You can program the Astro Levitation Wand to automatically cycle through all 20 flashing patterns or just your favorite flashing patterns!
Full Customization

At Your Fingertips
Choose From: 20 Captivating Flashing Patterns & 24 Vibrant Colors
FLASHING

PATTERNS
Programmable
Colors
Astro Levitation Wand
(2) Diffuser End Caps
(3) Washers for Balance Adjustment
Micro USB Charging Cable
Instructions
Lifetime Warranty*
*The lifetime warranty is only applicable to malfunctions or defects of the LED strip within the product.
The warranty does not cover damages to the product due to excessive force or any misuse of the product beyond its intended purposes.
---