eLite Element V2 Glove Light (1)
$10.95
---
Customer Reviews
Write a Review
Ask a Question
Filter Reviews:
service
Emazinglights
colors
light
directions
festival
love
phone
staff
feature s
06/27/2020
Boo H.
United States
Must buy now
Fell in love with them the lights flowed perfect together . You have to get yours now and more only one maxing lights
06/08/2020
Alison J.
United States
EMAZING
Excellent customer service and product!
04/23/2020
Anonymous
United States
Awesome chip
Love the element v2 just wish it came with directions. Somedays my phone isnt available to look them up. Other than that it awesome.
01/14/2020
Anonymous
United States
awesome
These are some of the best lightsive ever encountered
09/29/2019
Gabe M.
United States
Great Service and Response Time
Emazinglights staff was quick to respond to my warranty request for new eLite Elements. I was easily able to get them expedited in time for a festival. Thanks for the friendly, quick and responsive service!
08/09/2019
Anonymous
United States
Not a beginners light, still of quality
Had a few problems figuring out the lights modes and how to use them effectively at first but now I couldn't be more pleased with the performance, great light
Amaziiiiinnng
Beautiful colors
Good quality electronics
It was good they had cool lights and awesome feature s
Love it
I love the color set plus the tilt functions, it's just an amazing piece
Elite elemental v2
Best light out there if you want to rave with single lights
---
---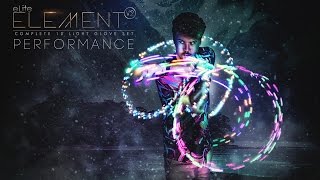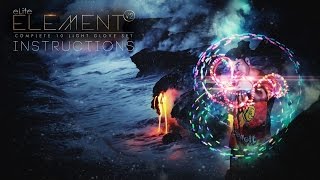 Description
WHAT'S NEW IN V2
Upgraded, easier-to-use Speed and Tilt motion functions, plus the all new Flux Motion
Custom designed default modes tailored to your gloving style
31 Color Palette including new colors: Cosmic Owl, Lime, Cyan, Lens Flare, Snarf, and Tombstone
12 Flashing Pattern options including new patterns: Shadow, Centerpoint and Ultra Dops
Firmware Upgrades: Faster programming level navigation, optimized button click response, fixed master reset issues, eliminated bugs
Faster, more user-friendly navigation
Reinforced LED bulb connections
eLock Battery Protection software
SPEED FUNCTION: V2
Just like in V1, Speed Function features the ability to switch your lights between two uniquely programmed sets with the flick of a finger. For V2, we went in and totally reoptimized the accelerometer readings. In English, that means that these things now react smooth as silk. We also adjusted the 3 different Speed Resistance levels so that the lights change depending on how fast you want to move.
TILT FUNCTION: V2
Tilt function works the same as V1, but it's just better. It reacts quick and consistently. Point your lights up to the sky to use your first set, and down to the ground for your second set. Now featuring the ability to select the exact angle where your lights will switch sets.
INTRODUCING FLUX MOTION
Flux Motion is a blissful blend of 3 single colors reacting to 3 different speeds. As you glove faster, the colors melt between each other with awesome transitional hues. This function is fully compatible with all 12 flashing patterns and can be customized to add gaps between the strobes without having to reprogram. See the "All Around" set above for programming info.
The Element V2 uses the most intuitive one-button programming interface on the market.
Edit any feature in seconds without affecting the rest of the light's functions
Enter or exit each programming level with ease
Live Preview programming (see below)
eLock Battery Protection software - keeps your lights off in your pockets and bags
Decreased time between programming levels for significantly faster navigation
Patent Pending
Flashing Patterns
When programming, you can see a live preview of your flashing patterns before selecting them. When you scroll through the options, simply move the light side-to-side to see./p>
Color Sets
When you program your color sets, you can see a live preview of your colors before you place them into the set. Just move the light side-to-side and you will see all of the colors you've already selected combined with the color you are currently looking at.
Just like the Element V1 and the Chroma CTRL, you can rearrange your modes to the order of your choice. Use the 6 available mode slots (or less) in any combination you can imagine. You can even repeat modes. When you get tired of your custom order, reset your modes back to their default order without losing your original programming.
---