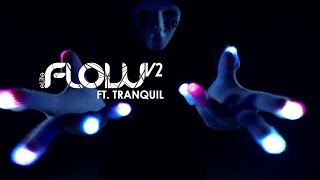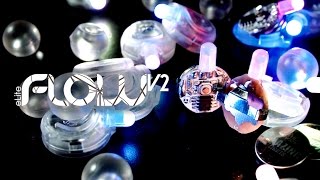 Description
PERFECT FOR FLOW ARTS, SOMETHING DIFFERENT FOR GLOVERS
PERFECT FOR FLOW ARTS,
SOMETHING DIFFERENT FOR GLOVERS
The Flow V2 LED Gloves are reimagined from its predecessor, featuring the ability to watch your modes transform over time with 2x as many flashing pattern options as V1. Program your lights quickly on-the-fly and watch them morph and fade through some of our most unique patterns yet.
Whether you're into our gloves, orbits, levitation wands, or glow sticks, the Flow V2 will flow with you.
Featuring Our Most
Unique & Flowy Patterns Yet
Option 1 - Flow For Days with All Your Patterns
Every 8 seconds, your lights will switch between each of the 16 flashing patterns above. This Flow Timer is the default setting for the Flow V2. You can also customize the Mode Shuffle Order that the patterns will appear in.

See the 3 Mode Shuffle Options
Â
Option 2 - Use 1 Pattern at a Time
After you turn the light on, click again to disable the Flow Timer and manually choose which pattern you would like to use. This simple 1-button navigation works just like our old friend the eLite Matrix.
20 vibrant color options
Mix and match any of these 3 colors across the all of the Flow V2's modes with just a few button clicks.
WHAT'S
IN
THE
PACKAGE?
WHAT'S IN THE
PACKAGE?
•

10 x Frosted Bulb eLite Flow V2 (Assembled)

•

10 x Clear eLite 4.0 Casings

•

20 x CR 1620 Batteries

•

10 x Standard LED Diffusers

•

1 x Pair Medium Magic Stretch Gloves

•

1 x Glove Pouch

•

Instructions
eLite Flow V2 Instructions
---