Electro V2 LED Glove Set
$24.95
---
Customer Reviews
gloves
lights
gift
beginners
pair
settings
options
friends
purchase
boyfriend
02/19/2019
MEGAN K.
United States
IM IN LOVEZ!!!!!!!!!
these gloves are emazing ;} cant wait to learn how to do cool stuff with them!
02/11/2019
Morgan L.
United States
Wonderful
I love them felt like I just ordered the items the day before it arrived
02/11/2019
Anonymous
United States
Excellent value
Not the most spectacular devices you will ever own. But they are only marginally more expensive than the garbage on amazon.com, and actually work for more than one night! Step up a few models if you are super serious. I got these as a gift and they have made it through 4 shows so far without fail. Very rapid strobe, interesting options, easy operation.
02/09/2019
Anonymous
Australia
ASTONISHIGN
The lights are bright and smooth all of my friends love them and so do I AHAHHA !
02/05/2019
Scott H.
United States
What a show
Love the wand... even better with the gloves and wand together
02/03/2019
Anonymous
United States
Very FUn
Good starter gloves for beginners
01/19/2019
Anonymous
United States
Good glove
I've only been using these gloves a short time. But I like them. They have a nice array of settings good glove to start out with
01/18/2019
Chris E.
United States
GREAT
CAME FAST, WORK GREAT FIT GOOD AND ARE BRIGHT, ITS NOT ROCKET SCIENCE TO CHOOSE YOUR LIGHTS
01/18/2019
Anonymous
United States
Beautiful!
There are so many different color options!
01/15/2019
Anonymous
United States
Great starter gloves
They're great, batteries die fast tho
---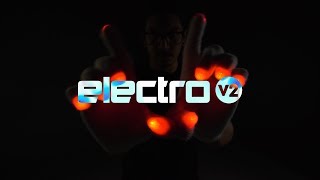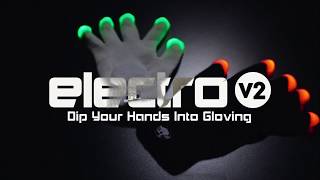 Description
Dip Your Hands Into Gloving
Simple-To-Use
•

Perfect For YOU

•

Customizable
What's new in ?
Increased Durability

Designed and stress-tested with highly durable wiring to ensure long-lasting flow!

Increased Brightness

Now includes a set of our premium diffusers, which allow for bright & vivid trails!

Replaceable Gloves

Easily swap and replace your gloves to keep your flow fresh!
Simple to use
With the click of just 1 button, watch as the beautiful colors & patterns of the lights dance before your eyes!
Perfect for you
The Electro V2 Glove Set is perfect for:
• Glovers of All Skill Levels

- Great for anyone who wants to give gloving a spin for the first time, all the way to those hardcore glovers who just need a simple glove set to keep their flow going!

• Music Festival Enthusiasts

- Why risk losing higher-valued glove sets? These are a lower-risk option that still allow you to glove all night long!

• Club Go-ers

- Entertain those club-goers with a glove light show as they enjoy the bumping beats!

• House Parties

- Mesmerize your friends at those fun get-togethers. You can even let them give it a try too!

• Dancers/Performers

- Add these to your performance to give it that extra flare that no one has seen before!
Customizable
With 7 different flashing patterns, and 8 different colors in each set, there are TONS of possibilities you can create to make your glove sets unique!