Electro V2 LED Glove Set
$24.95
---
Customer Reviews
gloves
patterns
value
purchase
color
pair
lights
set
gift
friends
06/13/2019
Martin S.
United States
06/05/2019
Anonymous
United States
The gloves were a nice
The gloves were a nice set to come back to easy flow. However after only a few months one of the gloves only had 1 light setting that worked
Hello! Thank you for shopping at EmazingLights! We appreciate you reaching out to us. We sincerely apologize for the inconvenience of this situation. We will pass this information along to the appropriate department for further review on the product. We appreciate your feedback! We are dedicated to our customer's satisfaction, so if there is anything we can do to further assist you, and make this a 5-star experience, please reach out to us! :) Thank you for shopping with us! Please let us know if you have any further questions or concerns.
05/09/2019
Anonymous
United States
Dope
I love my pair of gloves. They work super well. Only thing is that my pair had a smallish hole on the side when I got them. Other than that, really dope product
04/26/2019
Anonymous
United States
Absolutely Amazing
I use these almost everyday, one of the best purchases I've made!
04/15/2019
JAEL V.
United States
Great beginner gloves
Gloves are rad and super bright lights with great preset patterns and a good amount of color options. Great value for the money!
04/11/2019
Anonymous
United States
Love these lights!
One of the best purchases I've made. I'm using it for a contemporary jazz choreography I've created and the gloves work amazing!
04/10/2019
Anthony T.
United States
super
one of the best purchases I've ever made
04/04/2019
Gregory R.
United States
Emazing
Love my gloves. Cant wait to go to my next show to try out these bad boys
04/03/2019
Jorge E.
United States
---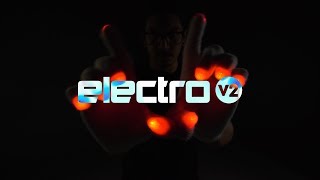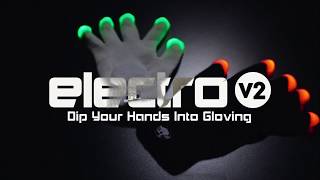 Description
Dip Your Hands Into Gloving
Simple-To-Use
•

Perfect For YOU

•

Customizable
What's new in ?
Increased Durability

Designed and stress-tested with highly durable wiring to ensure long-lasting flow!

Increased Brightness

Now includes a set of our premium diffusers, which allow for bright & vivid trails!

Replaceable Gloves

Easily swap and replace your gloves to keep your flow fresh!
Simple to use
With the click of just 1 button, watch as the beautiful colors & patterns of the lights dance before your eyes!
Perfect for you
The Electro V2 Glove Set is perfect for:
• Glovers of All Skill Levels

- Great for anyone who wants to give gloving a spin for the first time, all the way to those hardcore glovers who just need a simple glove set to keep their flow going!

• Music Festival Enthusiasts

- Why risk losing higher-valued glove sets? These are a lower-risk option that still allow you to glove all night long!

• Club Go-ers

- Entertain those club-goers with a glove light show as they enjoy the bumping beats!

• House Parties

- Mesmerize your friends at those fun get-togethers. You can even let them give it a try too!

• Dancers/Performers

- Add these to your performance to give it that extra flare that no one has seen before!
Customizable
With 7 different flashing patterns, and 8 different colors in each set, there are TONS of possibilities you can create to make your glove sets unique!