ePoi Lite
$35.97 (40% Off) $59.95
---
Customer Reviews
others
price
split rings
difference
models
rings
worries
tethers
yellow
flow timer modes
06/02/2019
Johannie I.
United States
Amazing Product
First purchase from here and the whole process was great...the product itself even better! Others would say it's too hard to press I found that it sometimes might not be fully inserted into the silicone mold where the light sits inside Don't be afraid to make sure the LED is fully inserted to avoid "pushing too hard"
05/11/2019
Anonymous
United States
Highly impressed
Still some string issues
03/27/2019
ELIZABETH A.
United States
Awesome!
This item that I actually recieved was awesome! Would really like to know where my wand is though! Considering it was supposedly shipped at the same time and after multiple emails still have yet to get a response!
03/24/2019
Anonymous
United States
Amazing
These ePoi are so great! I love them so much I can never put them down. The color range is great and they look so beautiful while flowing.
03/04/2019
Madeline M.
United States
Buttons hard to press+ warrantee?
One poi is fine but the other hurts my finger because I have to push in so hard to press the button. I bought a set once before that, if I remember correctly, came with a lifetime guarantee. How do I redeem this? My last set started to short out and flash green even when it was turned off so I purchased these new ones. SOS
Hello! Thank you for shopping at EmazingLights! We appreciate you reaching out to us. We sincerely apologize for the inconvenience of this situation. Please reach back out to us directly at "support@emazinglights.com" so that we may further assist you! We are dedicated to our customer's satisfaction, so if there is anything we can do to further assist you, and make this a 5-star experience, please reach out to us! :) Thank you for shopping with us! Please let us know if you have any further questions or concerns.
02/21/2019
ANTHONY S.
United States
Overall amazing
For the price, these poi are amazing, they are a little on the heavier side, which took some getting used to, but I actually like that more than the lighter poi I was using before. They are incredibly bright and look great in the dark or in direct sunlight. Really, my only complaint is that,for me, it is difficult to change the colors and modes
02/08/2019
Austin S.
United States
SO BRIGHT, a little complicated though
These are definitely larger than i expected, luckily come with a handy bag to carry them around in. Extremely bright, my brightest prop i own for sure. Definitely a bit of a learning curve on how to make your own modes and look through the modes, but i'm figuring it out pretty quickly. All in all great poi at a very inexpensive price, would buy again.
02/01/2019
Anonymous
United States
Love it!!!
So bright and beautiful
01/28/2019
Anonymous
United States
Fun times
Really great overall, the only complaint is a little confusion on the light programs, but it's minor.
01/04/2019
Anonymous
United States
They're awesome
They feel great to spin and the lights are as cool as advertised. Definitely wishing could soon then bet, but that's not their fault
---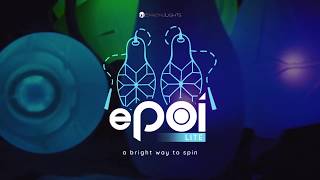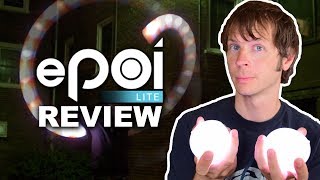 Description
Introducing
A Bright Way to Spin
An affordable, customizable, and easy-to-use option when you're looking for the perfect set of ultra-bright Poi to keep you spinning all night long!
Perfectly Weighted
Customizable
Soft & Durable Silicone Shell
USB Rechargeable
Lifetime Warranty
Ultra Bright
Great for Festivals
Great for Practicing at Home
Great During The Day
Great During The Night
Hundreds of Possibilities
Customize your set-up with:
20 Color Options
•

12 Flash Pattern Options
Easy To Use
With the touch of 1 button, you can start
flowing in a matter of seconds!
Specs
2 x Ultra Powerful LEDs
5.3" height x 2.75" diameter
160g per poi head
5-12 hour battery life.
USB recharge in under 2 hours.
780mAh 3.7V Li-Po Rechargeable Battery