ePoi Lite
$59.95
---
Customer Reviews
11/23/2018
KIMMIE C.
United States
So beyond impressed
I really enjoy my epoi lite set. They truly are an amazing step up from what i was using and I am so impressed and beyond impressed with the awesomeness of theyre components.
11/16/2018
Joanna H.
United States
Great product!
Colors are dimmer on one more than the other, but a great set over all.
10/31/2018
Anonymous
Canada
Great
Very bright! Happy with them.
09/24/2018
John F.
United States
Got 'em
Been wanting a set like this for years and got 'em on sale! Excellent poi.
09/18/2018
Renee M.
United States
Epoi is amazing
I love my epoi. The USB charging option is the best idea for flow toys. No wasting and changing batteries with this. I love all poi. LED and FIRE.
09/03/2018
Monica B.
Canada
Came apart, bad design
They came apart on the inside, would recommend buying different ones
08/30/2018
Anonymous
United States
Solid sturdy poi
The cheapest most high quality poi out there
08/12/2018
Aeric A.
United States
Review of Title.
Great! Easy to use and set modes! "The item" provided a lot of fun and entertainment!
08/09/2018
Alexander C.
United States
Awesome Poi!
Soft, long lasting, bright poi, with nice ropes. I wish there was a light setting with smooth colour transitions instead of strobing, but otherwise, I like the look!
05/27/2018
Emily D.
United States
Amazing!!
A couple weeks ago my friend shared her hobby of throwing poi with me and I ended up really enjoying it so I bought these epoi so I could have a pair of my own. LET ME TELL YOU!, these things are so cool. The amount of color choices and patterns just blow my mind. The LEDs are also very bright which is another plus. The pods are a little heavier than expected but was easy to get used to and the weight makes some tricks easier to perform. Overall I'm very very happy with these :)
---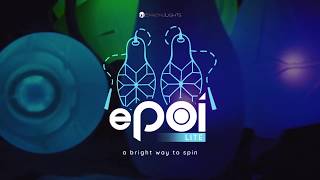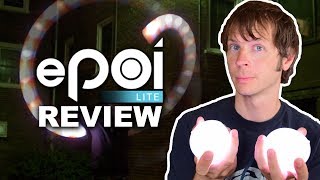 Description
Introducing
A Bright Way to Spin
An affordable, customizable, and easy-to-use option when you're looking for the perfect set of ultra-bright Poi to keep you spinning all night long!
Perfectly Weighted
Customizable
Soft & Durable Silicone Shell
USB Rechargeable
Lifetime Warranty
Ultra Bright
Great for Festivals
Great for Practicing at Home
Great During The Day
Great During The Night
Hundreds of Possibilities
Customize your set-up with:
20 Color Options
•

12 Flash Pattern Options
Easy To Use
With the touch of 1 button, you can start
flowing in a matter of seconds!
Specs
2 x Ultra Powerful LEDs
5.3" height x 2.75" diameter
160g per poi head
5-12 hour battery life.
USB recharge in under 2 hours.
780mAh 3.7V Li-Po Rechargeable Battery