ePoi Lite
$34.97 (30% Off) $49.95
---
Customer Reviews
Write a Review
Ask a Question
Filter Reviews:
colors
price
patterns
weight
handles
quality
modes
button
purchase
Emazing
10/14/2020
MICHAEL O.
United States
Really cute
They are super cute hanging in the backyard trees. Lit up right away!
10/12/2020
CHRISTINE B.
France
Experience new toys
I just received my new toys and they are "emazing" I give them a A+ except maybe for the handle. I don't regret my buy and have much fun using them
09/14/2020
Jessica N.
United States
Well put together!
This set was super nice! They are really bright and soft for practicing with.
09/14/2020
AURORA
United States
Great customization options
These poi have a great selection of customizable options. One did die on me after only a few minutes of flow (weaves and windmill, they didn't even touch each other) and I was able to return then to get a properly working pair. So far so good. Love the weight and finger loops as well
09/13/2020
Anonymous
Denmark
Great and can get even better
The epoi lite is fairly good. The built quality seems sturdy and the pods are squiqgly so they don't hurt badly getting hit by. I find that the colors are bright but I would much prefer if the color scheme variations were plain like in the advertisement photo you use in this mail you've sent, asking to review them. In that photo, the colors are distinct, green, orange, red, blue, purple and it even says epoi lite in the bottom corner. In reality, at least with the set I have, the colors are blinking for the most part. I got a solid light blue and a solid red, then some blinking modes or color changing schemes. I think some more solid deep constant colors like in the advertisement photo could be awesome. And they must be available just by pressing the button one time ahead. At least I don't get those colors when I single press-browse through the modes. Battery and charging time seems great and the included carry sack is great. Lastly I will also point out that, definitely put some ball handles on. The loop handles make it very hard to control the poi. I often get the poi in my face, not because my planes are crooked but because the loop handles don't allow for great precision when spinning. I am so much more on point with my contact poi. A friend and I discussed that it could also in part be that a round ball will distribute the weight better, even though I am not inherently against the shape of the pods. I think the handles are just not on par with the rest of the setup. I will put some 30g play sphere knobs on and they will probably get even a lot better for spinning and tossing. At the price I really am very satisfied.
09/08/2020
Anonymous
United States
Loved them
Love how there one button operates and how they recharge. There bright to that's always a big factor in these types of toys.
09/01/2020
Eric G.
United States
Extremely pleased!! Above expectations!!
I was extremely pleased with this product. It is of the highest quality. Was skeptical because of other cheap poi I have bought offline that literally broke within a matter of minutes, had cheap battery cases, and were too light weight. These are very durbable, weighted just right, rechargable. The rope is very durable, thick, with a handle which makes it easy to do many variations of spins. The colors are bright and vibrant and protected in the orb container. Wonderful product, would reccomend to anyone, both beginning and advanced!
08/13/2020
Rebecca F.
United States
Love it
The item is awesome, hours of enjoyment!!
08/12/2020
Joseph P.
United States
Soo much FUN!!
One of the best decisions I've made to purchase these beginner poi! They're bright, fun, the battery life is great, and when I hit myself it's not painful at all! I've had no problems!
08/10/2020
Christopher L.
United States
Epoi
I love them. Very Bright and cant wait to light up the night with them!
---
---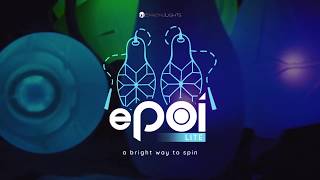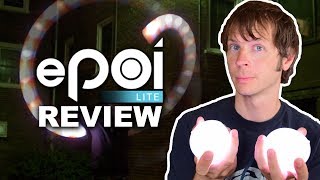 Description
Introducing
A Bright Way to Spin
An affordable, customizable, and easy-to-use option when you're looking for the perfect set of ultra-bright Poi to keep you spinning all night long!
Perfectly Weighted
Customizable
Soft & Durable Silicone Shell
USB Rechargeable
Lifetime Warranty
Ultra Bright
Great for Festivals
Great for Practicing at Home
Great During The Day
Great During The Night
Hundreds of Possibilities
Customize your set-up with:
20 Color Options
•

12 Flash Pattern Options
Easy To Use
With the touch of 1 button, you can start
flowing in a matter of seconds!
Specs
2 x Ultra Powerful LEDs
5.3" height x 2.75" diameter
160g per poi head
5-12 hour battery life.
USB recharge in under 2 hours.
780mAh 3.7V Li-Po Rechargeable Battery
---