eLite Flow Poi Balls (Set of 2)
$32.95
---
Customer Reviews
experience
batteries
price
boyfriend
material
item
lights
gift
weight
quality
07/18/2019
lisa g.
United States
Fantastic quality
So fall the experience has been great. These lights are cooler than I expected. I am very impressed with the function and many options of color and patterns. I am just learning and will come back and by the next set
05/27/2019
Anonymous
United States
Fun but easy to lose the parts.
They're a fun item BUT it's pretty easy to lose the little clear battery case cap. It doesn't screw shut and lock into place very well. In a dark area- where you'd expect to use these- it's so easy to have it fall out, lose the batteries, and never find that tiny little clear cover. Good suggestion- after you get it screwed IN-- put a few pieces of clear type tape over it.
04/29/2019
Branden C.
United States
Emazing
I liked them they were just a little to hard for me so I got the pod poi instead because it was silicone!
04/28/2019
JOSH P.
United States
So awesome!
Super great to use and the quality is the top.
04/17/2019
Courtney M.
United States
Yes
Just used them at a rave absolute perfection. Bright lights
04/14/2019
Parker B.
United States
Great for first time
Love the poi I got they are perfect for a first timer, good weight and lots of variety in color options
04/08/2019
MARK B.
United States
POI lights
Product is as described. Materials are high quality.
03/30/2019
KAEDEN B.
United States
Love it!
My first set of poi, good to start with for sure! Love them and can't wait to progress and be get another set!
03/27/2019
Victoria D.
United States
Bought for myself, stolen by boyfriend lol
Love these, my friends are entranced by these every time I bring them out! My boyfriend has fallen in love with certain tricks too! He's determined to nail the windmill lol as for me, I love just playing around with him and having a free flow! So amazing though, definitely would recommend!!
03/13/2019
Marcos P.
United States
Awesome flow toys!
So looking forward to trying out the other sets of poi y'all have
---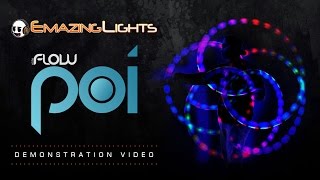 Description
The All New eLite Flow Poi Set is perfect for poi spinners who love experimenting with colors and flashing patterns. Utilizing a built-in eLite Flow Chip, spinners can program up to 3 colors at once from a palette of 20 awesome colors. Then, in Demo Mode, these colors will flow automatically between 8 different mind-blowing flashing patterns.

Built-in Flashing Patterns:
HyperStrobe
Ribbon Fade
Pulse
7-Color Ribbon
Dash Morph
Strobe Fade
Strobe Morph
Kandi Mode
Specs:
110g Each Ball
75mm Diameter Ball
Neoprene Double Finger Loop Handle
8mm Diameter Swivel Near Handle
2 x CR1620 Batteries Each Ball (included)
23 inches in length

Each ball spins like a dream. With a solid build and tons of customizable options, you can't find another poi set with such rich features anywhere else on the market. Batteries and instructions included.