eLite Flow Poi Balls (Set of 2)
Sold Out
---
Customer Reviews
10/12/2019
Jasmyne B.
United States
Yaaaaassss
I absolutely love my poi and cant put them down. The only doen side was it broke like the day it was delivered. Swung it a little too hard and the ring hold the string together came off. I've since had to tie the string making them uneven. Aside from that I love em.
10/08/2019
Celina B.
United States
Poi
Loved it, very lightweight and looks beautiful at night
09/21/2019
Anonymous
United States
Good for Price
I ordered 3 sets of these, and one individual poi needed two replacement batteries before it would turn on, and two other individual poi have had their tethers break where they were heated to stay on the ring after ten minutes of spinning. Twas mildly inconvenient but a nice little problem solving exercise I suppose. Pleased with the purchase otherwise :)
08/23/2019
SETH S.
United States
Pretty awesome
I love my poi only problem is one of the batteries died after two weeks of play.
08/20/2019
Gamer B.
United States
Great product
Aloha- great product and fast shipping. The poi lights up bright and has some great color changing patters. I throw rope dart and so I got this poi set for that purpose and was pleasantly surprised that the poi is a bit heavier then others I've played with, which is good for me. In general I feel that rope darting is a bit more demanding on the 'head' (the poi in this instance) as it hits the ground often and sometimes very fast/ hard and so far its held up (but because its not designed for darting I'm also not expecting it to hold up for ever, but because it came in a set of 2 I've got a back up :D). I've only had it for a short bit and hear changing the batteries can be tuff so can't speak to that, but so far I love it.
08/15/2019
JASON W.
United States
Detachment
The ring that connects the tether to the ball, broke the second day I had it.
Hello! Thank you for shopping at EmazingLights! We appreciate you reaching out to us. We sincerely apologize for any inconvenience! In the event your item breaks with normal use, you may feel free to reach out to our customer service team for further assistance! We are dedicated to our customer's satisfaction, so if there is anything we can do to further assist you, and make this a 5-star experience, please reach out to us! :) Thank you for shopping with us! - Sasha
08/07/2019
Anonymous
United States
Love these!
Well made poi set with amazing light settings! My friends were amazed at the campfire!
08/01/2019
phillip c.
United States
Poi review
Such an E-mazing product. The only bad thing is the metal clip that hold the batteries in, gets weak over time from it bending to do battery changes. After it breaks your lights won't work. You'll have to rig your own piece of aluminum or something inside it, because there's no replacement parts for it. 30$ well spent, I'm not complaining. I'm sure the more expensive options don't have this issue.
07/29/2019
Marissa M.
United States
07/18/2019
lisa g.
United States
---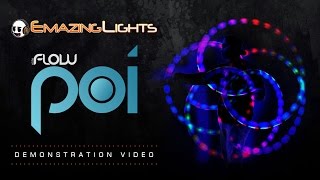 Description
The All New eLite Flow Poi Set is perfect for poi spinners who love experimenting with colors and flashing patterns. Utilizing a built-in eLite Flow Chip, spinners can program up to 3 colors at once from a palette of 20 awesome colors. Then, in Demo Mode, these colors will flow automatically between 8 different mind-blowing flashing patterns.

Built-in Flashing Patterns:
HyperStrobe
Ribbon Fade
Pulse
7-Color Ribbon
Dash Morph
Strobe Fade
Strobe Morph
Kandi Mode
Specs:
110g Each Ball
75mm Diameter Ball
Neoprene Double Finger Loop Handle
8mm Diameter Swivel Near Handle
2 x CR1620 Batteries Each Ball (included)
23 inches in length

Each ball spins like a dream. With a solid build and tons of customizable options, you can't find another poi set with such rich features anywhere else on the market. Batteries and instructions included.