Zero Orbit
$19.95 (43% Off) $34.95
---
Customer Reviews
significant other
battery life
Purple
effects
birthday gift
flow
show
directions
everyone
purchase
04/25/2019
Brian J.
United States
Orbit review
It was a great overall experience, only dampered by the fact it was stolen 2 weeks after purchasing
04/24/2019
Anonymous
United States
Top notch
it arrived a lot earlier than expected and has been working great since. No problems so far and the battery life is amazing. 10 outta 10, would recommend
02/20/2019
Anonymous
United States
Amazing
First time purchase and its fantastic it's so much fun!
02/08/2019
Anonymous
United States
Best
Totally recommend so much more smoother flow and the different directions make the effects so much more unique.
01/28/2019
Vincent T.
France
Excellent for beginners!
This is the first LED orbit I've bought, and it felt really easy getting started with it. The case looks sturdy and the included LED modules have a lot of different programs to play with. Highly recommended!
01/17/2019
Anonymous
United States
It's lit!
Got this for my significant other as a birthday gift. He absolutely loves it. We took it to a show and everyone was mind blown. He likes that it's easy to throw around his neck or belt loops when not in use. Also like how it comes in different colors. He loves the purple ☺ highly recommend getting the light up handles as well.
12/01/2018
Anonymous
United States
Not the best of items
Not the best of items
Another great purchase
Love the orbit and electron handles they move well together so now I have 2 great working orbits from emazing lights only complaint the batteries were completely drained when I got it but other than that ready to give great light shows
11/10/2018
Ash-Lin H.
United States
I wasn't sure
I'd never heard of an orbit until I saw a video of a girl doing it and decided I really wanted to give it a try it comes with everything you need already set up and great instructions I love it
Good For Beginners
This was my 1st & 3rd orbit. 1st lasted me 6 months. 3rd, I still own after 1 year. Used to learn. Liked it til I improved so much. Good casing for begginners. As I improved, I didn't enjoy how clunky the casing felt and sounded. Chips would easily change the lights as I would spin during a light show. Not my favourite casing but sure is my favourite of the EmazingLights casings. Keep on me when I don't want to spin my other orbits.
Hello! Thank you for shopping at EmazingLights! We appreciate you reaching out to us. We sincerely apologize for the inconvenience of this situation. We will pass this information along to the appropriate department for further review on the product. We appreciate your feedback! We are dedicated to our customer's satisfaction, so if there is anything we can do to further assist you, and make this a 5-star experience, please reach out to us! :) Thank you for shopping with us! Please let us know if you have any further questions or concerns.
---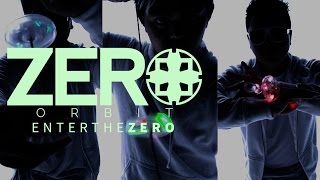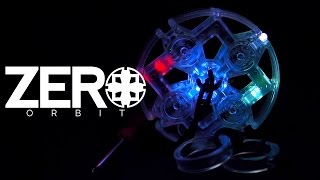 Description
orbiting's
powerful
new direction.
The ZERO Orbit is every orbiter's first choice to spin. Bringing you an innovative new multi-directional light setup
and the smoothest, sturdiest spin on the market, the ZERO is truly an orbit revolution.
designed
to

perfection
Multi-Directional Lights
World's Smoothest, Easiest Spinning Orbit
Designed for Comfort & Durability
Made by Orbiters, for Orbiters
Compatible with all eLite Orbit Lights
Featuring


Multi-Directional Lights

The ZERO Orbit features a reimagined Multi-Directional orbit light design.
Turn all 4 of your lights IN, OUT, LEFT or RIGHT to find light patterns that fit your flow.
Default
Custom
rotate your lights
in seconds
Simply unscrew the central screw with the included screwdriver for instant access to your lights. Trying new arrangements is easy!
world's
smoothest easiest spinning

orbit
Ultra Durable Polycarbonate Plastic (Not 3D Printed)
100% Rattle & Tangle Free
Soft, Tactile Button Click
Perfect Weight (38g)
3mm String and Keyring-style Handles Included
(other string sizes and handle styles sold separately)
featuring the


flow v2 ORBIT LIGHT

16 Flashing Patterns

•

3 Mode Shuffles

•

20 Color Options
LEARN MORE
The Zero Orbit is compatible with all of our currently available Orbit Lights. For best fit, we recommend using the included Flow V2 lights. Some of our older lights may experience minor fit issues.
ZERO Orbit Fully Assembled
4 x eLite Flow V2 Microlights
2 x Keyring-style Comfort Handles
2 x 3mm Satin Strings
8 x 1620 Batteries
Mini Phillips-head Screwdriver