Zero Orbit
$20.97 (40% Off) $34.95
---
Customer Reviews
Filter Reviews:
experience
orbit
handles
colors
pocket
purchase
everyone
emazing lights
lights
show
11/22/2019
ADAM I.
United States
Creative and Fun and Mesmerizing Flow Activity
Zero Orbit exceeded my expectations! It's not just another flashy toy to play around with-- in fact it is intricate, with many colors and modes and sequences to experience. It's also very durable, as it didn't break or get a scratch the few times I got too close to objects and there was hard contact. It's not hard to learn how to use it, as you can try many ideas and easily figure out what works and what doesn't. This is fun for the user and the spectators, especially in the dark, and is even more fun taking turns. Once I got the hang of it, I played some progressive, uptempo music to keep me going!
11/21/2019
Allison
United States
Love it
I was really excited to get this orbit! However I was a little disappointed that it didn't come with any lights already in it. I didn't know it wouldn't, so I didn't purchase any lights. Fairly bummed because I was really excited to receive it, but It doesn't have lights
Hello Allison, We saw your review and appreciate your honest feedback. We apologize that our Zero Orbit didn't meet your expectations. We will be sure to pass this feedback along for further consideration! Our Zero Orbit comes with 4 lights, we highly recommend for you to reach out to support@emazinglights.com with the order details for us to further assist you. We want to ensure our customers are 100% satisfied with every order and we aim to make this a 5-star experience. If there is anything we can do to further assist you with an order or product issues, please reach out to us! Thank you for shopping with us! Ross
10/19/2019
Anonymous
United States
Really cool
I've been using the orbit for about two weeks and it's word amazing. The lights are really bright and the handles are comfy to use.
10/09/2019
Anonymous
United States
Amazzinngg
Super easy and fun :) Fits right in my pocket and it's so convenient whenever anyone needs a light show.
10/09/2019
Terry D.
United States
Everything is perfect except..
I received my zero orbit in the mail yesterday. Everything is prefect except one of the lights would not turn on. I tried switching out the batteries and resetting the light but it didn't work. This seems to be a common problem amongst others. I contacted EmazingLights and they were quick to respond to my issue and are sending me a replacement light. In the future, I suggest EmazingLights package their orbits in boxes rather than plastic shipping bags to hopefully fix this issue for others.
09/29/2019
Anonymous
United States
Such an amazing orbit
Good materials, nice set of led lights and its fun
09/23/2019
KEVIN U.
United States
So super good happy fun
Zero orbit is rad. So fun and easy to create interesting light patterns once you memorize the controls for the light chips. It's a little on the heavy bulky side which can be a good thing depending on your style. I also have the orbite x3 which is lighter but has a slight rattle at high speed. The zero is rattle free. Love them both but if I could only keep one itd be the zero.
09/07/2019
JOSH G.
United States
Super Easy to Learn!
Having a great time learning how it works!
08/18/2019
Dillan M.
United States
Perfect for beginners
Perfect for beginners
08/15/2019
Anonymous
United States
Awesome orbit
The lights are amazing and really cool
---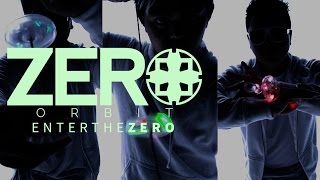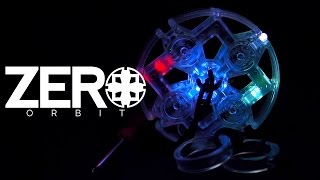 Description
orbiting's
powerful
new direction.
The ZERO Orbit is every orbiter's first choice to spin. Bringing you an innovative new multi-directional light setup
and the smoothest, sturdiest spin on the market, the ZERO is truly an orbit revolution.
designed
to

perfection
Multi-Directional Lights
World's Smoothest, Easiest Spinning Orbit
Designed for Comfort & Durability
Made by Orbiters, for Orbiters
Compatible with all eLite Orbit Lights
Featuring


Multi-Directional Lights

The ZERO Orbit features a reimagined Multi-Directional orbit light design.
Turn all 4 of your lights IN, OUT, LEFT or RIGHT to find light patterns that fit your flow.
Default
Custom