ePoi - A Brighter Way to Spin
$79.95
---
Customer Reviews
Write a Review
Ask a Question
Filter Reviews:
colors
market
purchase
glove
pair
boyfriend
programming
lights
deal
ePoi
04/01/2020
NICHOLAS K.
United States
Amazing
great set of poi. Spin and look great
03/20/2020
Anonymous
United States
Brightest Epoi!!
Unfortunately when I first ordered the Epoi for my boyfriend we got a set that didn't work/light up. Luckily they let us return them and sent out a new set! We've received the new set and they work perfectly! My boyfriend is so happy
01/29/2020
Anonymous
United States
i love it
i use it all the time i love how easy they are to use
01/22/2020
COLIN C.
United States
First set of Poi
I haven't gotten to play much with the designing of my own sets yet, but in terms of feel and lights they are wonderful. I am completely happy with my purchase and am looking forward to customizing my poi!
01/16/2020
gusten p.
Spain
Nice poi
Its very bright and fun to spin, I really like it!! Still learning the programming it takes some time and pacience.
01/10/2020
Anonymous
United States
Beautiful and Fun
This is my first time using double handed poi,, and though it has been a bit of a challenge at first, I'm having a lot of fun practicing and discovering what I can do with them. I love the colors and different settings on the poi, especially the 5th one where it changes color while you move the poi. Very satisfied with this product, I even took advantage of their buy one get one deal over the holidays so that i would always have a set charged up and ready to go!
01/02/2020
brittany f.
United States
Emazing as always!
Had been eyeing the ePoi for awhile now and finally gave in and bought them during the black friday sale. OMG these things are AMAZING!! They're a bit heavier then the starter poi I bought last year but the weight and handling feels much more solid. Moves that where hard to do before are much easier. The LEDs are intense! So many different color combos it was hard for me to choose. A bunch of my flow friends now want them. Stay Excellent!!
12/30/2019
Matt S.
United States
Perfect Starter Poi!
I got these for a homie who has been gloving for 6ish years now and was looking to pick up a flow art, and these were absolutely perfect! Motion reactivity is super sick, colors are bright and vibrant, and they're fairly easy to program (compared to older glove sets we're used to) Absolutely would recommend to other beginners!
12/20/2019
Steven H.
United States
Epoi - a brighter way to spin
These poi were nothing less then I expected, simply amazing!!!
12/19/2019
Kim M.
United States
---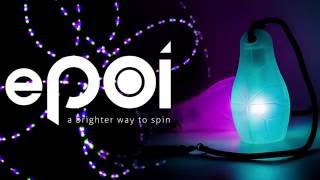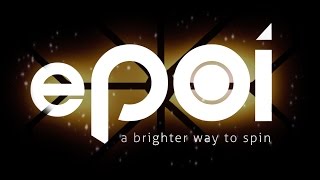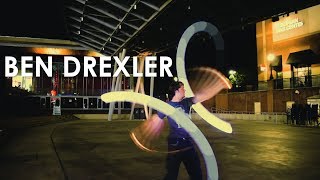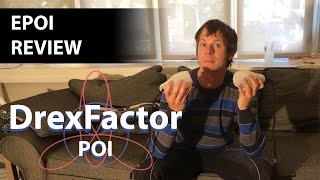 Description
A
Brighter Way

to Spin

The ePoi is the brightest, most advanced button-programmable LED poi you've ever spun. We worked alongside
some of the top poi spinners in the world to develop this beautiful, eye-catching poi set.
Eye Catching Brightness (2-3x Brighter than competitors)
Soft & Durable Silicone Shell
Motion Reactive
USB Rechargeable
Lifetime Warranty
BEAUTY
in

STRENGTH

We built the ePoi with the everyday poi spinner in mind.
Soft & absorbent

silicone poi shell

Easy & tactile

button press

Adjustable leashes

with tight, stable knots

Grippable

single-loop swivel handles

eLock

keeps ePoi off in your bag
ePoi Specs
2 x Ultra Powerful LEDs
5.3" height x 2.75" diameter
23 inches in length
160g per poi head
5-12 hour battery life. USB recharge in under 2 hours.
780mAh 3.7V Li-Po Rechargeable Battery
Poi
customized

your way
With just one button you can...
Pick Your Own Colors

Combine up to 3 of your favorite colors (24 options) + Select the Tint of each color

Choose Flashing Patterns

Select from 20 of our favorite patterns

Shuffle Modes As You Spin

Watch the ePoi change modes over time
See all the 24 Color Options, 20 Flashing Patterns and Mode Shuffles
"Flux"

Motion Reaction
You move, they change.
Slow/Stalled

Speeding Up

Full Speed
As you speed up and slow down your spinning, your colors will melt between each other with awesome transitional
hues. Just click to the 5th mode and start spinning.
what
Poi spinners

are

saying
"The weight feels really good."

Jaimison Salazar

10 year Poi Spinner & Glowstringer

"The brightness is a nice feature to these poi and I also enjoy the color customizability."

Eric Dingoni Vadala

10 year flow artist
What's

in the package?
2 x ePoi (Leash & Handles installed)
Dual Micro USB Charging Cable
Instructions
Carrying Case
Lifetime Warranty**
**We will exchange any defective ePoi free of charge for as long as you own it. Lifetime Warranty does not cover general
wear-and-tear or any misuse by the user including loss, theft, intentional breakage or gross misuse of the product.
---