Electro V2 LED Glove Set
$24.95
---
Customer Reviews
gloves
lights
pair
settings
gift
options
friends
things
color
anything
03/22/2019
Anonymous
United States
Really great fun
Every bit of what was promised and delivered fast too! Will order more.
03/21/2019
Anonymous
United States
Great for beginners
Definitely one of the best purchases I've made. They're good beginner/practice gloves. The battery pack can be kind of heavy, and it's easy to press the button on accident while performing, but like I said: great beginner gloves.
03/18/2019
Anonymous
United States
Great begginers gloves!
Im a begginer Glover, and never have I ever found anything like these things to put on a great light show!
Not the best
I got these as a Birthday gift from my sister. They worked perfectly out of the package but after using them at a rave for a few hours the wires completely came out of the battery port. Maybe it's just because these are the cheap pair?
Hello! Thank you for shopping at EmazingLights! We appreciate you reaching out to us. We sincerely apologize for the inconvenience of this situation. Please email us directly at "support@emazinglights.com" so that we may further assist you! We are dedicated to our customer's satisfaction, so if there is anything we can do to further assist you, and make this a 5-star experience, please reach out to us! :) Thank you for shopping with us! Please let us know if you have any further questions or concerns.
03/05/2019
Anonymous
United States
Amazing
These are amazing; super cool and fun. Not to mention very easy to hypnotize people
02/22/2019
CAITLIN W.
United States
Love them
Great value for the price. I'd only bought super cheap gloves before and the brightness and color on these far exceeds what I was used to! Great intro pair of gloves if you're still new to the art. Settings are easy to figure out and lots of variety in color and patterns.
02/19/2019
MEGAN K.
United States
IM IN LOVEZ!!!!!!!!!
these gloves are emazing ;} cant wait to learn how to do cool stuff with them!
02/11/2019
Morgan L.
United States
Wonderful
I love them felt like I just ordered the items the day before it arrived
02/11/2019
Anonymous
United States
Excellent value
Not the most spectacular devices you will ever own. But they are only marginally more expensive than the garbage on amazon.com, and actually work for more than one night! Step up a few models if you are super serious. I got these as a gift and they have made it through 4 shows so far without fail. Very rapid strobe, interesting options, easy operation.
02/09/2019
Anonymous
Australia
ASTONISHIGN
The lights are bright and smooth all of my friends love them and so do I AHAHHA !
---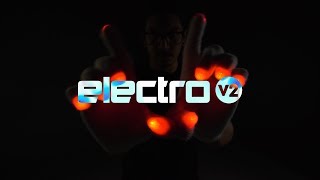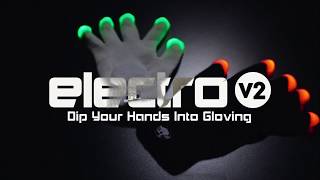 Description
Dip Your Hands Into Gloving
Simple-To-Use
•

Perfect For YOU

•

Customizable
What's new in ?
Increased Durability

Designed and stress-tested with highly durable wiring to ensure long-lasting flow!

Increased Brightness

Now includes a set of our premium diffusers, which allow for bright & vivid trails!

Replaceable Gloves

Easily swap and replace your gloves to keep your flow fresh!
Simple to use
With the click of just 1 button, watch as the beautiful colors & patterns of the lights dance before your eyes!
Perfect for you
The Electro V2 Glove Set is perfect for:
• Glovers of All Skill Levels

- Great for anyone who wants to give gloving a spin for the first time, all the way to those hardcore glovers who just need a simple glove set to keep their flow going!

• Music Festival Enthusiasts

- Why risk losing higher-valued glove sets? These are a lower-risk option that still allow you to glove all night long!

• Club Go-ers

- Entertain those club-goers with a glove light show as they enjoy the bumping beats!

• House Parties

- Mesmerize your friends at those fun get-togethers. You can even let them give it a try too!

• Dancers/Performers

- Add these to your performance to give it that extra flare that no one has seen before!
Customizable
With 7 different flashing patterns, and 8 different colors in each set, there are TONS of possibilities you can create to make your glove sets unique!