eCharge - Rechargeable eLite Battery Pack (Set of 2)
$19.95 (33% Off) $29.95
---
Customer Reviews
Keep shorting out
These simply don't work. All of my batteries are comfortably in their casings. The gloves turn on and then shut off after 15 seconds. I've read the instructions several times now and they should only do this if the eCharge batteries are contacting each other but they definitely aren't. No idea what do to.
10/08/2018
Anonymous
United States
Very useful
Very convenient and useful! An improvement from using and replacing light batteries constantly.
09/12/2018
Tyler C.
United States
Almost there
I bought 6 of these, alongside 3 packs of the elite chroma glove sets. I am a fashion designer and was attempting to use these products to light a fiber optic dress. The dress turned out beautifully. However, I did notice that one of the battery packs shorted out once and after that first time it started happening more frequently and at faster intervals. Luckily I only needed 5 battery packs to light my design. I think it might have been the same problem others were having with the lights shutting and shorting the battery. I tried calling customer support 3x and I did not receive a phone call back. However, 5/6 batteries and all lights in perfect condition= 4/5 stars for me! Thank you!
08/08/2018
Alfredo L.
United States
awesome
These are easy to put on. Like most people say, an hour or 2 to charge will last for a while. Highly recommend if you want to save money from buying the 1620 batteries.
08/03/2018
Janessa H.
United States
E-charge rechargeable elite battery pack
I love this product! Works very well and saves me the hassle of always having to buy batteries
07/25/2018
Matthew S.
United States
Fantastic
Once you get used to feeling a bit like spiderman with the packs at your wrists it's amazing how well they blend into the background and never having to change ten batteries is a nice feeling inside
07/24/2018
Joshua M.
United States
dynamic gloves
I really enjoyed using them. The hard part is using them without the echarge system to control all lights at once but after I bought that my light shows ran much smoother.
07/16/2018
Michael G.
United States
Convenient
I like the eCharge for practicing at home because it saves batteries but it is a little bit restricting so I wouldn't use it in a competition.
06/25/2018
Mars R.
Canada
Love them
I love using these. They keep the lights bright and vivid. The only complaint I have is that they are usually out of stock and you cant get them.
Great concept
I've went threw two different echarges, the first pair came messed up, shorting out in 10-15 seconds, the second pair worked great until I tried to change the color palette, once I did that they just started shorting out on me. I will more than likely be sticking to 1620s from here on out. Other than that, you don't feel the wires or the pack on the back of your hand. I really love the idea I just wish it worked.
---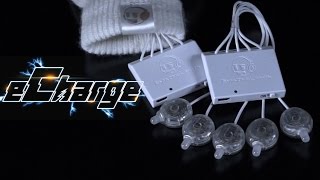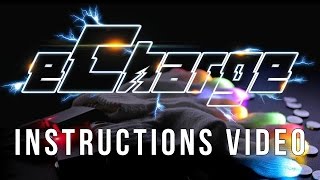 Description
The eCharge is the ergonomic, eco-friendly, cost-saving solution to your light show addiction.
We all know that changing batteries is a pain, so we're bringing you gloving's first ever rechargeable battery pack. With the eCharge, you can glove for hours on end and never have dim lights.
PLUG IT IN, CHARGE AND GLOVE
With the eCharge, you'll simply find yourself gloving more. Don't worry about having to recharge when the battery is low: the eCharge keeps your lights at maximum brightness all the way until it dies. A single charge can last 10-12 hours on low powered modes and colors, or 4-8 hours with brighter, more power hungry modes and colors. Fully recharge both units in just 1 hour.

The eCharge has no effect on the functions of your eLites. Compatible with all eLite Glove Lights.
Don't Drain Your Precious Batteries
We're not saying you have to ditch your 1620s completely. When you're out at a festival, FNL, or throwing shows at IGC, coincell batteries might just make your life easier. But for kickbacks, lab sessions, programming experiments, and those times when you just can't come up on a set of batts, the eCharge has your back. Or rather, the back of your hand.
Comfort and Freedom to Move
We know what you're thinking: These are just fancy pre-wireds, right Emazing?
Wrong. We asked our glovers to throw their most aggressive, mind-melting shows with the eCharge, and there wasn't a single move they could think of that it couldn't handle. The wires are gentle on the fingers, and the battery pack feels slim and minimal, weighing in at just half an ounce. The pack also has a silicon pad on the bottom providing a comfortable, non-slip grip on the back of your hand.
Reinforced and Durable
Don't let the wires scare you. Unlike the cheapo pre-wired set you got at the street fair, this thing was built to last. We reinforced the wires at every connection point so you can whack them, yank them, and swing them around as you please. Become the first eCharge poi spinner! Kidding. But seriously, this thing is a tank.
What's in the box?
- 2 x eCharge Units
- 1 x Dual Micro USB to USB Cable
- Instructions