Celestial Paradox Zip-Up Hoodie
$29.97 (45% Off) $54.95
---
Description
This Celestial Paradox Zip-Up Hoodie is a standard Men's fit. Women should order a size down (S > XS) for best fit.
We collaborated with@ThinkLumito bring you a collection of unique dreamscapes.
The woods meet outer space in this unique and inspiring design. Made with the highest quality fabric and printed with vibrant, eco-friendly inks, this zip-up hoodie can be worn again and again and won't shrink or fade.
This premium zip-up hoodie has been handmade by a highly skilled American craftsman in sunny California. Each panel is individually cut, then sewn together to ensure ahigh qualitygraphic and a tailored fit.
---
Customer Reviews
Write a Review
Ask a Question
06/15/2020
CHRIS M.
United States
The most comfortable shirt I've ever worn!
I purchased 3 tees to start and have already purchased an additional 3. These graphic tees are stunning in person and the fabric makes them very comfortable and conforms my body perfectly, I have a belly so I was worried they wouldn't fit that well but they are perfect I'm about to purchase my 3rd set right now, highly recommend these tees to anyone!
06/07/2020
Brandon W. Warner
United States
Most definitely the coolest hoodie I've Owned
Amazing graphics cover the entire outside to a spectacular effect. Also seems very well made with a smooth durable finish.
03/15/2020
DAVID J.
United States
Sik ass zipup
Thin light material really soft
01/01/2020
Anonymous
United States
My new sweatshirts
Nice material and warm
12/31/2019
Jory C.
United States
Hoody purchase
I love the zip up hoodies. This one is stylish and great! :)
12/02/2019
Kevin S.
United States
Great design, great material, comforting hoodie.
I'm not a big person who buys online but I definitely recommend Into the AM. This has literally been my favorite hoodie. It fits great and also quality material and a cool unique design.
09/21/2019
Anonymous
Canada
Very nice hoodie
Material is awesome, color are amazing, but for some reason, the medium is WAY too long for me, always get medium for my hoodie and this one look like a large or x large =/ so i dont use it
Hello! Thank you for shopping at INTO THE AM! We appreciate you reaching out to us. We sincerely apologize for the inconvenience of this situation. If your item is unworn, you're more than welcome to send it back for store credit! We will pass this information along to the appropriate department for further review on the product. We appreciate your feedback! We are dedicated to our customer's satisfaction, so if there is anything we can do to further assist you, and make this a 5-star experience, please reach out to us! :) Thank you for shopping with us! Please let us know if you have any further questions or concerns.
07/26/2019
STEFAN J.
Australia
Absolutely sublime design
I discovered "Into the AM" just through a Google Image search for "men's fractal hoodie jacket" and was pleased to find just what I was looking for. Jackets such as those offered on Into the AM are the unique all-over-art print jackets I have been scouring the internet for. When the jacket arrived it fit perfect and made me stand out among the crowd. Will definitely be a repeat customer.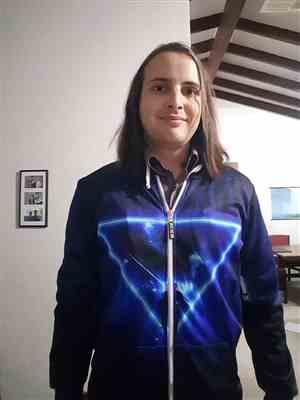 07/15/2019
Anonymous
United States
Love it
Fits and looks great
06/13/2019
Vess B.
United States
Outstanding Products
After the 4th or 5th order I am still amazed at the service and quality of products. 3 thumbs up for Into the AM.
---