Orbite X3 (2-Light)
$15.95 (20% Off) $19.95
---
Customer Reviews
01/18/2019
AMANDA D.
United States
Awesome Gift
My friend loved her updated orbit.
12/13/2018
desiree s.
United States
So cool!
It's super bright and fun to play with
12/09/2018
Anonymous
United States
Awesome and nearly ...
This is the first time I tried the orbit. I think its very easy to milnipulate once you get the hang of it. I like it when new colors form from increase in rotation. Yeeeaaa!!
06/11/2018
Chloe M.
Australia
So pretty
Me and my friends had so much fun at this at Happy Daze thanks so much it makes such cool patterns with not much effort
06/03/2018
Debra H.
Canada
Loving it!
i have never seen one before I ordered mine. Easy to use and looks amazing in the dark!
04/30/2018
isis p.
United States
My orbits!
I am having a great time playing with these!
03/26/2018
Anthony M.
United States
Light and accurate
I liked how lightweight this orbit was though because the LED's stick out it does get tangled easier if you goof your moves up and need to reset quickly. Otherwise this a great starter orbit and is compact to not need a special case to transport
02/10/2018
Brittany Duffy
United States
Orbitz
I really enjoy them however I wish there were four lights instead of two
02/06/2018
Michael A.
United States
Intro to orbiting
This orbit is perfect for those who are just starting to get into flow and I always find myself playing around with it when I break from my homework. I swear this thing is an awesome "fidget spinner"
01/18/2018
Jorge J.
United States
I love my orbit
I am very satisfied with my x3 orbit:)) it's very easy to use specially for beginners.
---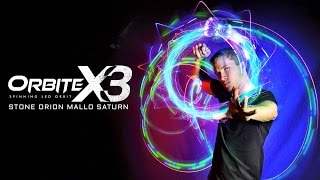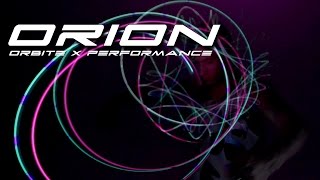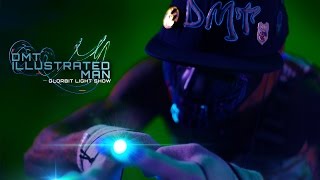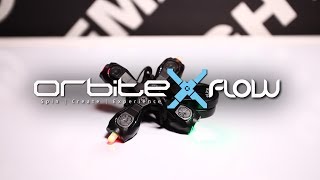 Description
STUNNING
HANDSPUN
LIGHT IMAGERY
AT YOUR
COMMAND.
The beauty of the Orbite X3 begins the second you pick one up for the first time. Give it a few spins and instantly make beautiful light patterns! The Orbite X3 2-Light brings you all the beauty and performance of the Orbite X3, but at a significantly lower price. Even with just 2 lights, this orbit still blows minds. Plus you have the option to add more when you're ready.
FEATURING
REVERSIBLE MICROLIGHTS
This game-changing hardware upgrade takes full advantage of the eLuminate Clear Casing.
Flip your lights inside-out for a vibrant inner glow.
Watch the performance video at the top of the page to see it in action.
ENGINEERED TO PERFORM
New Back-to-basics Keyring-Style Comfort Handles
Reinforced Casing - Little to No Rattle
Thicker 3mm Satin String for Easier Spins and Added Control
Easy Assembly & Battery Change - No Need to Remove Strings
Improved Screw Durability + Mini Screwdriver included
Compatible with All eLite Orbit Lights
---
THE ILLUSION OF MAGIC
You can create these awesome light designs with a few simple flicks of the wrist.
---
WHAT'S
IN
THE
PACKAGE?
•

Orbite X3 Fully Assembled

•

Mini Phillips-head Screwdriver

•

2 x Keyring-style Comfort Handles

•

2 x eLite Flow V2 Microlights

•

2 x 3mm Satin Strings

•

4 x 1620 Batteries